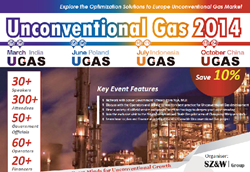 (PRWEB) March 03, 2014
According to the officials of 2014 UGAS, Sinopec has finished constructing one of the deepest horizontal wells in Fuling Block (a famous place that is located in Chongqing province, China) on February 20, 2014. This well, named "NanYe 1 HF", is 5712.56 meters in depth, and its horizontal segment reaches 1047.91 meters.
That is good news for Beijing. "The well has a high yield (100 thousand cubic meters averagely), which shows that the Sichuan basin is likely to be a commercial production area in the near future," said a Sinopec Jianghan official with direct knowledge of the Fuling drilling.
Sinopec Jianghan unit has more than doubled its 2015 output target for the key shale area of Fuling in the country's southwest after successful pilot drilling.
Shale-gas production in China holds the world's biggest shale reserves. PetroChina's Changning-Weiyuan and Fushun-Yongchuan areas, along with the Fuling block operated by Sinopec Group, have built new production capacity of 800 million cubic meters, according to the Land and Resources Ministry.
In October 23-25, some of the delegates from Unconventional Gas Convention (UGAS 2014) will visit the field tour in Fuling National Shale Gas Pilot project. At the upcoming conference in Beijing, the eminent speakers will share their knowledge and experience in these Meetings:
Mr. Honglin Liu, Deputy Director, CNPC Shale Gas R&D Centre
Mr. Frank David, General Manager, Unconventional Exploration & New Ventures, Shell China
Mr. Li Yuxi, Researcher, Strategic Research Centre of Oil and Gas Resources, Ministry of Land and Resources (MLR)
Mr. C.M. Jain, General Manager, Head of Unconventional resources, ONGC
Mr. Sekar Sakti Hastasari, Unconventional Hydrocarbon Manager, PT Pertamina
Mr. Kamlesh Parmar, CEO, 3 Legs Resources
About Unconventional Gas Convention (UGAS 2014)
Unconventional Gas Convention 2014 is one of the largest Unconventional Gas Events in the emerging market. It has been successfully organized for five years across China, India, Indonesia, and Europe, gathering more than 2000 international unconventional gas market leaders to share their experiences and seek new business opportunity.
UGAS are the events organized by SZ&W Group in response to the new challenges and opportunities for the unconventional gas industry in Asia. By introducing the innovative experiences from regional regulators, NOCs, IOCs, leading oil service corps and EPCs', addressing the major challenges to government policy, regulation and industrial standards, and delivering the latest developments in key technologies used in unconventional gas E&P, UGAS is becoming a bridge for unconventional gas industry into a new business model fitting to a low carbon and sustainable future, as well as a Asia's renounced platform for unconventional gas industry decision makers.
Unconventional Gas Asia Summit China 2014, Oct 23-25, Beijing, China
Unconventional Gas Asia Summit India 2014, March 25-26, New Delhi, India
Unconventional Gas Convention Europe 2014, June 5-6, Warsaw, Poland
Unconventional Gas Asia Summit Indonesia 2014, July 10-11, Jakarta, Indonesia
Organizing committee of Unconventional Gas Convention 2014
Project Contacts: Joy Chiang, Unconventional Gas Director, Energy & Natural Resources
T:+86 21 58300710
F:+ 86 21 58311668
E: info(at)szwgroup(dot)com
UGAS Website: http://www.szwgroup.com/unconventional/