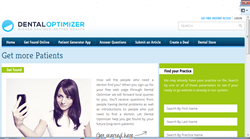 "Members can find the right dentist and make an appointment online."- Andrew Clapp, Healthy Grid
Portland, Oregon (PRWEB) February 28, 2014
Healthy Grid announced a new format for their popular Dental Optimizer tools. Dentists and insurance companies can now select the features they want and offer them as a "white label" as part of their web marketing.
Healthy Grid's Dental Optimizer has received a warm reception by many dentists, dental groups, and insurance companies. Large employers even find it useful to help their employees simplify the process of finding the best dental care. The basic form of the Dental Optimizer connects people to the right dentists and offers them an array of programs to help them better understand and take care of their teeth. Participating dentists benefit as the Dental Optimizer funnels inquiries from patients to them. The basic customer-facing format has not been customizable in the past and it didn't allow for individual branding of the features.
"The feedback we've been getting from the original, public Dental Optimizer has been great and we're keeping that program for people and dentists who like it," says Healthy Grid's Andrew Clapp. "We're branching out and trying to fill the requests from clients who want to serve a closed population, like a group or insurance provider. We're also hearing from dentists who maybe want some of the features on their website. The common question is 'can we put our name on it?' Yes they can."
The Best Dentist Finder was the first feature of the original Dental Optimizer. On the public site, people can search for a dentist in their area who meets their dental and scheduling needs. As dentists fill out more information on their profiles they become more likely to receive referrals to searchers. Also, the Best Dentist Finder includes reviews from other patients. In the white label format, insurance companies will be able to take the program and apply it to their network. They can also include out-of-network dentists who would be clearly labeled.
Andrew Clapp of Healthy Grid explains that the Best Dentist finder "takes a lot of the uncertainty out of searching for a dentist. A lot of people don't even know what they're looking for in dental care until they see the information that dentists post about their practices. First appointments tend to lead to longer-term dentist-patient relationships and we believe this will help people get connected to the dentist who will work for them." He adds that insurance companies benefit as well from hosting the program. "It frees up their customer service folks to handle other issues. Members can find the right dentist and make an appointment online."
Healthy Grid is also offering their Dental Tips & Prevention feature for purchase as a white label option. Because overall oral health is driven by prevention these articles help patients help themselves as they can look up problems or find suggestions for better tooth maintenance. All of the articles are written by dentists and they're organized alphabetically for easy browsing. "Dentists tell us they like it when their patients are informed," says Clapp. "Whether you're looking to find out if a certain pain is urgent or just looking for the best way to floss, we've got an article to help you. Insurance companies a finding value in it too; their goals are served when their members are more informed."
Healthy Grid's white label products are ready for purchase. For more information, contact Healthy Grid or you can view their site here: http://www.healthygrid.com.