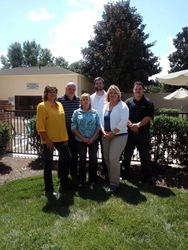 I have passed the PMP Exam!! Thank you PMstudy and the instructor indeed for your continuous support and guidance.
(PRWEB) February 28, 2014
These live virtual classes are led by qualified instructors and the students get connected with the instructor through a virtual interface aided by internet. The set-up will just resemble a classroom. The students can access the live lecture from their computer or iPad and this takes learning to newer heights.
The value addition is made by a complimentary 'Introduction to Scrum' course and Scrum Developer Certified (SDCTM) course offered to the students of the PMP Boot Camp program. This would help the students to gain knowledge regarding the contemporary project management practices in the industry. Also a complimentary copy of the SBOKTM - the Scrum Body of Knowledge is provided to the students. "The SBOK™ has been developed by qualified in-house team of subject matter experts in agile methodologies" said a SCRUM expert from VMEdu, the parent company of various brands such as PMstudy and SCRUMstudy. The SBOK™ has been widely accepted by the leading scrum practitioners in the industry. "The SBOK™ serves as a guide to the contemporary practices of the SCRUM methodology and it is beneficial especially for practicing managers", opined another expert from SCRUMstudy.
With new approaches to enhance the value to the customer, PMstudy has added new videos to its online course. These videos are more explanatory and focused to deliver the inputs to the student. Taking a step further, PMstudy has also launched mobile applications which can run on Android and Apple devices, and help our students in taking chapter tests while on the move. The PMstudy chapter test app with a huge database of questions allows the user to test the level of proficiency in each knowledge area of PMBOK® Guide. The PMstudy's PMP®/CAPM® terminology application allows testing the user's knowledge of terms and concepts covered in the PMBOK® Guide - Fifth Edition.
The online course from PMstudy has also been bundled innovatively. "Students have been provided with enhanced number of options in the online course such as the Silver package, Gold package, and the Platinum package to enhance the value", reported the head of online sales of PMstudy.
While the education and training industry is undergoing a massive transformation in terms of training deliveries and technology enabled learning, PMstudy is scaling new heights and moving on towards carving a distinct niche for itself.