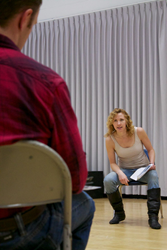 "We want to optimize ASOOC actors' drive by training them how to best handle the audition room." --- Owner Sonya Cooke
Santa Ana, CA (PRWEB) February 28, 2014
The Actor' Studio of Orange County is a professional acting school in Santa Ana that trains acting technique to adults, teens and kids. It is the school's mission to build the actor's craft and instill creative confidence through a rigorous training program. However, owner and head teacher, Sonya Cooke, also believes that acting must be applied as well as studied. Many of the students at the school have already begun to audition and book work. "ASOOC students need little encouragement to apply for acting opportunities; they are quite ambitious," says Cooke. "So we want to optimize their drive by training them how to best handle the audition room." Thus, the ASOOC is launching this eight-week intensive to prepare students for all aspects of auditioning.
Instructed by Los Angeles-based actress and ASOOC faculty member, Siobhan Doherty, the course will cover how to audition for film, TV, and theatre as well as commercials, print and voice-over work. "I hope to pass on the knowledge I've learned through trial and error, as well as the knowledge that my teachers and colleagues have passed on to me, to help each student feel prepared to begin a career in the performing arts," says Doherty. The class will also delve into the Business of Show Business and cover topics such as searching for and signing with representation, what marketing tools and measures to use, and how to gain exposure in this competitive industry. Students who are preparing to shoot scenes for their reels will have the opportunity to workshop their material in class. Over eight weeks, students will learn how to prepare sides and copy, how to improvise, how to handle cold and warm reads, what to wear, how to slate, and what is needed in order to give the best performance possible in such a limited amount of time, among many other pertinent topics.
Students can expect to be filmed and recorded in every class and will be asked to prepare homework and business materials throughout the course. Tuition is $300 for the two months of training, but currently enrolled students receive a $100 discount. Classes take place the studio in Santa Ana. To register or inquire, email info(at)asooc(dot)com, call (866)519-6559 or visit the website: http://www.asooc.com.