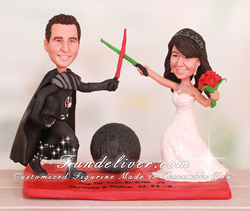 (PRWEB) February 28, 2014
The cake toppers from UniqueWeddingCakeToppers.com are famous for the unique designs, fine materials and amicable service. Recently, the company has announced its new interesting wedding cake topper collection for worldwide customers.
"We are happy to unveil our new range of wedding cake toppers, and we encourage worldwide clients to keep an eye on our homepage. We will release our newest designs of star wars wedding cake toppers in the coming days. Along with quality wedding cake toppers, we also offer anniversary toppers, careers cake toppers, hobby and sport toppers for customers from around the world. Those who want to make their wedding more memorable should visit our website as soon as possible," the CEO of the company says.
The company is excellent when it comes to pre-sale and after-sale services. Its top experts are always ready to make beautiful toppers. Usually, the experts create the general sketches and then modify the original design. All related pictures will be sent to the clients for approval.
What's more, the company is one of the leaders in the topper industry. Its fresh collection consists of many unique designs. Owing to the special products, UniqueWeddingCakeToppers.com has received many positive comments.
About UniqueWeddingCakeToppers.com
UniqueWeddingCakeToppers.com is a famous online supplier of vivid cake toppers for weddings, birthday parties, going away parties and many other events. With an aim of making the events more interesting and memorable, the company often offers great savings on its special products. At its online store, customer satisfaction is among the top priorities.
More details about its funny items can be found at http://www.uniqueweddingcaketoppers.com/.