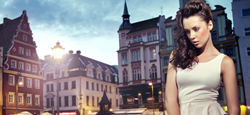 Glam Trends in Style
(PRWEB) February 28, 2014
GL Fashion certainly doesn't keep the style conscious waiting. Just take a look at http://www.glfashion.com where it's just become much easier to get ready to look great for the warmer months. New and fresh, this expanded inventory fits perfectly with the spirit GL Fashion is known and loved for: providing everything a diva needs to look great at work or at play.
The new styles being made available are remarkably versatile. In line with the latest trends they can be worn casually or dressed up, depending on the choice of accessories and the moment's need. This smart and hip design sense has been something GL Fashion is known for.
Owner of GL Fashion commented, "We've really been looking forward to spring and summer here at GL Fashion. It gives us a chance to really shine and make available fashion that celebrates all the positive energy in the air. Our shoppers are going to love all the new merchandize available at our online store. So far 2014 has been great to us and we expect this to continue stronger than ever!"
GL Fashion takes their influences from the top runway designers of New York City, Paris and beyond. This attention to detail and eye towards what's hot has built them a sparkling reputation and enthusiastic support from shoppers.
"My two favorite dresses are from GL Fashion. You could describe my personal style as 'casual chic' and for what I really look best in there's no better place to shop. I like that I can wear my top from GL to the office and look cute, but just change what I wear with it and it works just as well in the club. I fully recommend shopping here all year long," raved Emily Chase, a customer of GL Fashion and lifestyle blogger.
Dresses, tops, bottoms and accessories GL Fashion makes selecting a fashion style for any situation as easy as could be. The inventory on the site is updated often and the purchasing process is smooth and seamless. To make shopping even simpler and customer friendly shipping is always free in the United States and only $10 flat-rate for international orders.
When it's time to get that perfect black or red dress to turn heads, or maybe something a little more daring like an animal print top, the place to shop is GL Fashion. With their even larger inventory set for 2014's warmer months there's surely something that's going to attract even the most discerning fashionistas. There's no better way for a diva to keep up on the latest styles and look great all at an always affordable price.
For more information on GL Fashion and to take a look at their expanded inventory for summer 2014 visit http://www.glfashion.com or call 1-213-293-3389.