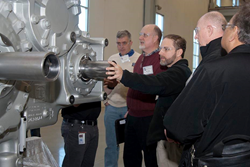 The plant tours program is part of GME's efforts to bring positive attention to the manufacturing industry.
Atlanta, GA (PRWEB) February 28, 2014
The Georgia Manufacturing Expo (GME) released, Thursday, more locations in its lineup for the manufacturing plant tours program. The program is a series of monthly tours, which began last December, building up to this year's Georgia Manufacturing EXPO in June.
The plant tours program is part of GME's efforts to bring positive attention to the manufacturing industry. Jason Moss, founder of GME, says the goal of the program has a double purpose. GME wants to give industry professionals a way to share information and best practices. The tours also serve to "build awareness for both the individual manufacturers that drive the economy in our state, as well as the manufacturing industry as a whole," Moss explained.
Next in the plant tour series is the Port of Savannah in March. Companies such as Southwire, Shaw Industries, Okabashi, and Farratech are also included. Rounding out the list are United Seal and Rubber, WIKA, and Gwinnett Daily Post, a platinum level sponsor for the EXPO. Tours of these plants will take place before the Georgia Manufacturing EXPO this coming June 13-14.
"My primary objective is to serve the great manufacturers that are found throughout our state," said Moss.
The buzz around GME's work has been building, and support of its mission is showing continuous growth. Earlier this month, Governor Deal signed a proclamation naming June 2014 as "Buy From Georgia Month".
Support for local manufacturers is the driving force behind the Georgia Manufacturing EXPO. With the governor's proclamation, Georgia became the first state to push the buy-local movement through the manufacturing industry. The EXPO will be a two-days event for consumers and businesses to attend. The event is free with registration, and will be at the Gwinnett Center June 13-14.
Leading up to the EXPO GME will also host trainings and networking meetings specifically for manufacturing industry professionals. Some events, namely the plant tours, are open to the general public. A complete list of tour dates has not been issued. Tours and events are always listed on GME's website, which was recently updated.
The plant tours program includes at least one tour each month and tours are not concentrated within one area of the state. In December GME hosted a tour of Briggs and Stratton in McDonough, and the ZF Wind Power plant in Gainesville followed for January. February saw two plant tours, Anheuser Bush Brewery in Cartersville and Jekyll Brewery in Alpharetta for the anniversary celebration of Networking MFG, another sponsor of the EXPO.
GME's mission is to spotlight the best of Georgia manufacturing people, products, and plants. To learn more and to register for the EXPO, visit GeorgiaManufacturingExpo.com.