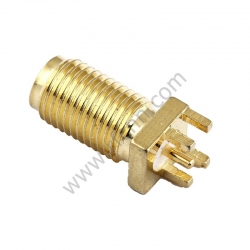 (PRWEB) February 28, 2014
Recently, RFcnn.com, the top-ranking SMA product supplier, has introduced its new range of SMA RF connectors. Also, the company has launched a promotion for the global market. At present, all its high quality connectors are offered at discounted prices, up to 28% off.
Statement of the Company
According to the CEO of the company, an SMA connector is a semi-precision coaxial RF connectors developed in the late 20th century as a minimal connector interface for coaxial cable with a screw type coupling mechanism. Actually, "SMA" refers to "SubMiniature version A". An SMA connector has an impedance of 50 Ω and is designed for use from DC to 18 GHz.
"We are proud of our new SMA RF connectors. Distributors from all over the world can access the low prices now. We decided to create the fresh collection because of the huge demand for quality SMA connectors. As a matter of fact, all our items are practical and they can be applied in many industries," he says.
The Hottest Design
The hottest design in the company's fresh assortment is SMA Female For PCB Board Edge Soldering RF Connector. The detailed information about the item is as follows:
Part No: SMA202
Description: SMA Female For PCB Board Edge Soldering RF Connector
Connector Series: SMA
Connector Type: female
Contact Termination: Solder
Impedance: 50 Ohm
Mounting Type: Through Hole PCB
Fastening Type: Threaded Bulkhead
Frequency Max: DC-18GHz
Body Material: Brass
Body Finish : Gold
Center Contact Material: Brass
Center Contact Finish: Gold
Dielectric Material: Polytetrafluorethylene (PTFE)
Voltage Rating: 375V
Working Temperature: -65°C ~ 165°C
About RFcnn.com
RFcnn.com is an online shop of high end devices. It is a China based company that aims to provide customers with high quality products at the lowest possible prices. Customers can try the company's products through sample orders with a long-term contract. Most customers come back soon after receiving their first deals.
More details about the company's useful products can be found at http://www.rfcnn.com/SMA-Female-For-PCB-Board-Edge-Soldering-RF-Connector-97.html.