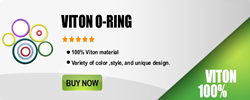 (PRWEB) February 28, 2014
Recently, TOGOHK.com, the leading Viton gasket supplier in the world, has launched a Viton gasket promotion for the USA Market, and announced custom Viton gaskets are offered as well.
The company firmly believes that the promotion is a great chance to introduce its products and communicate with more potential customers who have great interest on its Viton gaskets. Based on the marketing manager of TOGOHK.com, the promotion is launched to increase the company's sales revenue by offering the highest quality products to customers in the USA.
"Now, all our Viton gaskets are available at greatly discounted price, up to 30% off. Committing to provide high quality at low prices, we are confident in satisfying the clients with our new products. We have done much work in marketing before the promotion, and we have confidence on everything now," the CEO of the company says.
TOGOHK.com is a leader in the industry of Viton gaskets; the company also puts much emphasis on customer service and online marketing. To make its designs meet the needs of customers worldwide, TOGOHK.com is trying its best to improve the product quality and services.
About TOGOHK.com
Founded in 2003, TOGOHK has developed into a modern enterprise that provides its customers worldwide a one-stop silicone product solution from conception to delivery. With high technology engineering and advanced CAD and CAM, the company has been serving more than 3000 customers from over 70 countries. Thanks to the innovative designs and 24/7 customer service, the company has become a leader in the industry.
For more information about the business, please visit their website at http://www.togohk.com/viton-o-rings-size-chart/.