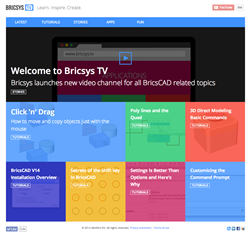 With Bricsys TV, we bring color to the CAD training world. This unique channel provides a mix of tutorials, stories and fun, produced by CAD guru's all over the world. - Sander Scheiris, Marketing Director, Bricsys
Ghent, Belgium & Merrimack, NH, USA (PRWEB) March 02, 2014
Bricsys launches Bricsys TV. This new video channel for all BricsCAD related topics brings a colorful mix of tutorials, stories and fun to all CAD users, produced by CAD guru's all over the world.
Multiple authors
The movies on Bricsys TV aren't solely produced by Bricsys but also by, among others, Ralph Grabowski, editor at upFront.eZine and author of several hundred magazine articles and books.
Learn. Inspire. Create.
By offering these videos, we want to inspire all CAD users to learn BricsCAD and its third party applications, and create beautiful things with it.
Visit http://www.bricsys.tv and get inspired.