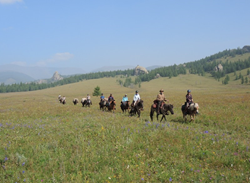 Mongolian horseback riding expeditions offer a unique eco-adventure of the purist kind.
Ulaanbaatar, Mongolia (PRWEB) March 04, 2014
Have you ever dreamed of horseback riding across open steppe, over mountain passes and crossing wild rivers? Then Mongolia, the land of Chinggis Khan, where horse riding is still a way of life and fences are rarely seen, is a country not to be missed. The mysteries of Mongolia as a once forbidden land are now open to every traveler who wants to experience the freedom of horseback riding in the land of the eternal blue sky.
"These horseback riding expeditions in Mongolia offer clients an eco-adventure tourism experience of the purist kind," says Keith Swenson, co-owner and founder of Stone Horse Expeditions & Travel, a horse riding adventure outfit based out of Ulaanbaatar, Mongolia. Swenson and his wife, Sabine, a co-owner of Stone Horse, have lived and worked in Mongolia for the past 16 years taking people from all over the world on their horseback cultural and wilderness expeditions.
Originally working in Mongolia helping to develop the national park system, with local communities, governments, line agencies and Ministries, the couple explored the great wilderness areas of Mongolia on horseback during their spare time. Their love of the Mongolian horse, the culture and the landscape attracted others to join them and Stone Horse Expeditions & Travel was born.
In developing their unique high quality horseback trips, safety of the horse and rider is paramount. Sabine, as a trained saddle maker, creates lightweight, durable saddles for the comfort of the rider and the horse.
Both Sabine and Keith have long time experience in the natural sciences and natural resource management and have seen many changes take place as Mongolia moves from a demand based economy to a market oriented democracy. The effects on the environment and social fabric of herder communities is not always positive and the herding lifestyle is rapidly disappearing. "This is one reason travelers are encouraged to visit Mongolia now," says Swenson.
To raise awareness about horseback travel in Mongolia and this unique culture, Stone Horse Expeditions & Travel is hosting a Webinar on the subject on March 13/14, 2014. For sign up details and information, visit the Stone Horse Expeditions & Travel website.