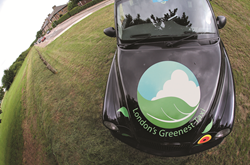 ComCab is London's greenest taxi service and the firm was the first in its sector to gain ISO14001:2004 Environmental Management Certification
London (PRWEB UK) 3 March 2014
London's largest licensed taxi fleet, ComCab, is supporting Climate Week - Britain's biggest climate change campaign, by running a Climate Week awareness campaign between 3 – 9 March 2014.
To raise awareness of Climate Week, ComCab has partnered with Bright Move Media to place innovative new LED taxi rooftop signs on all taxis carrying Bright Move Media rooftop ads, promoting the event and giving members of the public the chance to win an iPad mini if they spot one of the taxis and tweet @ComCabLondon. Furthermore, ComCab is offsetting the entire carbon footprint of the ComCab taxi carrying the rooftop ad, including the driver's personal mileage, for the duration of Climate Week.
Climate Week sees a wide range of events and initiatives targeting workplaces, schools and people at home helping them to save energy, resources and reduce their impact on the environment. These initiatives include mass 'switch off' campaigns to reduce wasted electricity consumption and water saving tips and advice. A number of businesses, organisations and schools are participating in this years event.
ComCab is London's greenest taxi service and the firm was the first in its sector to gain ISO14001:2004 Environmental Management Certification over 10 years ago. ComCab is the leading provider of taxi services to the London business market and offsets all the carbon from its corporate account trips.
The Climate Week promotional message will be carried on the Bright Move Media 'TaxiCast' rooftop messaging system throughout Climate Week and will be highly visible day and night. By simply tweeting "Climate Week" along with where they spotted the taxi, Londoners can enter the draw to win an iPad mini along with more hints and tips for saving money and energy during Climate Week.
About ComCab:
ComCab was founded in London in 1974 and became part of the ComfortDelGro Corporation in 1997. Its award winning service has seen ComCab secure the London Transport Award twice and the SCOPE Platinum Access Equality Award, in recognition of its highly accessible transport facilities. It was the first taxi company to attain ISO14001 environmental certification and has secured the prestigious Sunday Times Best Green Companies Award three years running.
About Climate Week:
Climate Week is Britain's biggest climate change campaign, inspiring a new wave of action to create a sustainable future. Culminating in a week of activities, it showcases practical solutions from every sector of society. Each year, half a million people attend 3,000 events in Britain's biggest ever environmental occasion. Events are run by schools, businesses, charities, councils and many others.
For more information on Climate Week visit: http://www.climateweek.com