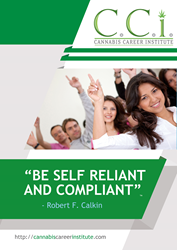 Boston Marijuana Business needs to learn compliance, business structure and about the Boston rules and regulation regarding Cannabis Industry businesses like Medical Marijuana Dispensaries...
Boston, MA (PRWEB) March 01, 2014
Boston sits on the cusp of legalities for Medical Marijuana and is having it's own share of legislative worries. Dispensary legal issues are cropping up and the agendas of politicians are in question. With Colorado and Washington State paving the way for recreational usage, many states are getting involved with creating their own state regulations for Marijuana in order to get into the potential revenue stream of expected taxes. Even the national banks are starting to bite.
Taking the opportunity to help business start ups become better informed on proper business practices, Cannabis Career Institute is arriving in Boston on March 2nd to provide professional training on how to open a medical marijuana dispensary or to start a productive marijuana delivery service.
During the full day class that is offered, students will also have the amazing experience of being instructed by Jason Scoby.
Scoby is one of those very rare individuals who has the ability to discern exactly what strain he is holding by sniffing, touching and looking at a small cannabis nugget. He is able to distinguish between each strain type smell and can tell how the plant product was grown by visual inspection and gentle touch. Scoby can even narrow down his answer to the genetic specifics, like which generation the plant might be from, the water usage, whether it was grown indoor or outdoor and much more.
Boston students will be delighted to also meet Robert Calkin, the founder and president of C.C.I. He speaks on a wide variety of topics and started Cannabis Career Institute in 2009. He has been involved for decades in the Marijuana Industry and provides students his unique perspective on how the Business side of the Industry should be run with full compliance to state laws and that owners should remain utterly self reliant. Ken Hoffman rounds up this impressive group with additional business expertise and between these three individuals, entrepreneurs getting ready to enter the Marijuana Sector will walk away with a wealth of knowledge and the ability to properly run a Marijuana business based on the laws of their state.
One of the main factors of the Marijuana Industry that most people do not discuss regularly, is the fact that the Industry may help out the unemployment rates as it has the opportunity for jobs creation on a larger scale. Cannajobs, a Monster.com type of posting board for employees and employers, is a perfect example of how jobs are starting to open up and employees are starting to work. The online website offers individuals the chance to post their resumes where employers can check through them, browse the want ads. This appears to be just the tip of the iceberg as Dispensaries and Delivery services are cropping up all across the United States and as they continue to open up, more employees will be required to keep them running.
Cannabis Career Institute will take walk in students to the class, but it is suggested that students wishing to enroll do so, online.