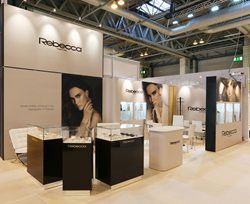 We have always marketed our Prestige Events System against other modular exhibition stand systems, even though our solution is clearly an alternative to more expensive 'custom-built' exhibition stands.
(PRWEB UK) 28 February 2014
"It came as Archimedes moment; the realisation our market positioning was all wrong," explained Alan Jenkins, CEO of exhibition designers Quadrant2Design.
Alan, "We have always marketed our Prestige Events System against other modular exhibition stand systems, even though our solution is clearly an alternative to more expensive 'custom-built' exhibition stands. Our mistake was that we were marketing Prestige as an 'expensive' modular solution, when in fact, it's really a custom-designed exhibition system that offers an amazing value proposition".
Alan continues, " New revelations like this are always disturbing, upsetting long held beliefs about who we are, and what we do. It also meant that annoyingly, our website and other marketing assets needed a fresh approach. So now our new marketing material reflects this new understanding; that our Prestige Events System offers its clients the look of a custom built exhibition stand but with all the benefits of a modular system".
Quadrant2Design have therefore re-worked all of their marketing assets, with a newly designed and refreshed website, new company brochure, and a new design theme for their own exhibition stand at the flagship 'Marketing Week Live' event in June 2014.
The newly re-designed website can be viewed at: http://www.prestige-system.com.
Quadrant2Design is also very active in Social Media, and the new understanding has meant the entire look and feel of their online presence now has a new look.
So what are the essential contrasts between 'custom-built' and 'modular' exhibition stands?
Alan explains, "A custom-build design is often large and striking, with personalised designs and a professional look. This design will often get a lot of interest from passers-by, as the scale and ingenuity of the stand will impress and intrigue. However, custom builds are very labour intensive, expensive to transport and build, can only really be used the one time and play a risky game with ROI".
"Most modular systems tend to be more conservative. In essence, many modular alternatives are less impressive on an overt scale, but the hidden advantages can outweigh those of the custom build if cost and usability is an issue", continues Alan.
Quadrant2Design argue that the Prestige Events System offers the same impressive look and feel of the best custom designed exhibition stands, but with all the benefits of modular stand construction.
Alan: "For argument's sake, let's say you have a wonderful custom build stand, and it's been a huge success in Vegas. It's time to bring it back to London. The chances are that you will take the best part of a day to dismantle it, load it up in a few vans you've hired out, and fly. Doing the same with Prestige will probably take about three hours to get the whole thing in the back of a hire car (an average saloon will fit an average exhibit), and fly. The Prestige system is easier to build and take apart, and it also lends itself to lightweight travel, but you still get the impressive look of a custom build exhibition stand".
"In London, the stand needs to be made again. This is likely to be very difficult with a custom build but, with the benefit of the doubt, it will take the best part of another day to build, and alterations will have to be made for a smaller exhibiting space. With a Prestige exhibit, you'll be able to build that shorter stand mentioned earlier at no extra cost and with no less ease. So, with a beautiful stand that can be taken apart and put together again, in new and space-efficient ways, Prestige can replicate the advantages of a custom-build with none of its flaws.
As time goes on and the exhibit is re-used, it becomes more apparent of the incredible 'value proposition' that Prestige represents; an exhibition stand that combines the look of a custom designed exhibition stand with the scalability and reusability of a modular system", says Alan
Quadrant2Design are based in Poole, Dorset, United Kingdom. The company offer free design proposals for all new exhibition stand projects.