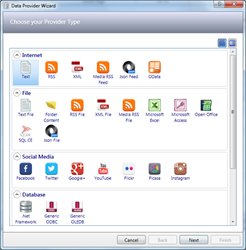 With this Smart Social Media Integration NDS gives customers better tools to engage their audience
Eindhoven, the Netherlands (PRWEB) March 02, 2014
Net Display Systems (NDS), key player in the global market of smart digital signage software, announced details on their latest PADS4 software release to be released on March 3. This release includes a significant expansion of social media data providers.
"In PADS4 Release 4 we introduce an extensive set of new social media features to our customers. With new dedicated data providers such as Facebook, Twitter, Google+, and YouTube you can now simply include content from social media into your digital signage presentation," said CEO Willie-Jan Bons.
"With an even better integration of social media our customers will have more tools to engage their audience and provide a more personalized experience within their digital signage solution," he continued. "It's also an inexpensive way to keep your content fresh and up to date."
Another highlight is the enhanced control of digital signage networks. NDS has added more control to the PADS4 Agent application and included a powerful way to respond directly to unexpected events in a digital signage network.
With this release customers will be automatically be notified in case of important issues in their digital signage installation. These notifications are made possible by using the new PADS4 Agent alerts functionality.
By defining alerts in the PADS4 Agent application users can specify exactly what situations they wish the system to monitor and how they want to be notified, for example by e-mail or alarm sound notification.
PADS4 Release 4 also includes Arabic language, SDK documentation and improved performance for large installations with 1000+ displays.