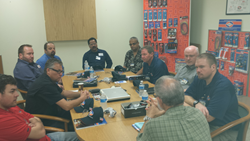 Quality Tools That Go To Work With You
Fort Lauderdale, FL (PRWEB) February 28, 2014
Uniweld Products, Inc. held a training seminar for its Canadian manufacturing representatives on February 10-12. The training provided education on both extensive Welding and HVAC/R products.
Training sessions consisted of classroom instruction, practical application, and hands on training that would help representatives understand Uniweld's products. Personal certification of their representatives gives Uniweld the peace of mind that they will represent the company well and help customers get the job done efficiently.
Uniweld's training did not limit itself to just its products. Along with vast product knowledge, representatives were given a course on the topics of sales techniques and safety. Throughout the three days, representatives were instructed from a variety of sources; from Uniweld's engineers, Uniweld's Customer Service Department, the HVAC Managing Director David Foster, Vice President of Welding Division Ray Blew, to Executive Vice President Douglas Pearl and President of Uniweld, David Pearl II which expressed commitment to working together and supporting distributors.
At Uniweld we believe we make the best products in our industry because we take no shortcuts. Our made in USA products are truly "Quality Tools That Go To Work With You."