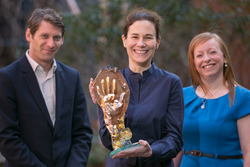 Dublin, Ireland (PRWEB UK) 2 March 2014
AIB Merchant Services (AIBMS), the merchant acquiring joint venture, between Allied Irish Banks p.l.c. and First Data Corporation, has won the best Acquirer Award at the prestigious Merchant Payment Ecosystem (MPE) awards recently held in Berlin. AIBMS is one of Ireland's largest providers of merchant card acceptance services with extensive operations in Ireland, the UK and throughout Continental Europe.
"AIB Merchant Services has managed to seamlessly combine a premium customer services with the most modern of technologies enabling customers and staff to interact and resolve issues quickly," says Leon Dhaene, Chairman of the MPE (Guiding Hand) Awards. "The jury appreciated the fact that AIB Merchant Services demonstrates that, a winning combination must still always include direct contact with customer representatives," Leon adds.
The Merchant Payment Ecosystem (MPE) awards recognise the 12 best performing companies in the industry.
David Courtney, General Manager of AIB Merchant Services comments: "Winning the award is a really proud moment for us. It recognises AIBMS as an outstanding player on the European stage and reinforces our expertise and commitment to service. To be recognised at a highly regarded industry event such as Merchant Payment Ecosystem is a fantastic achievement."
The Acquirer Award was presented to AIBMS for its Premium Corporate Services which were developed in direct response to regular customer surveys to understand what corporate customers expected from their Acquirer in order to support and drive business growth. Rolled out across Europe, the key to its success is the service delivered by dedicated teams supporting the day-to-day commercial and support needs of its corporate customers. AIBMS's expertise both in the payments field and its thorough understanding of specific sectors were also key factors in securing the award.
-ENDS-
About AIB Merchant Services
AIB Merchant Services (AIBMS) is one of Ireland's largest providers of card payment services. The company employs more than 80 people in Republic Ireland and the UK. AIBMS is a joint venture between AIB plc and First Data Corporation, a global leader in electronic commerce and payment services.
About First Data
Around the world, every second of every day, First Data makes payment transactions secure, fast and easy for merchants, financial institutions and their customers. First Data leverages its vast product portfolio and expertise to drive customer revenue and profitability. Whether the choice of payment is by debit or credit card, gift card, check or mobile phone, online or at the checkout counter, First Data takes every opportunity to go beyond the transaction.
If you would like more information please contact:
Cathy Riordan
Managing Director
PR Wise
Tel: +353 1 400 7528
Email: cathy.riordan(at)prwise(dot)ie
Louise Durning
Marketing Manager
AIB Merchant Services
Tel: + 353 1 2182149
Email: louise.durning(at)aibms(dot)com