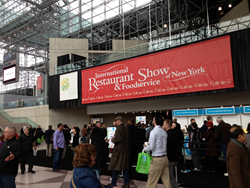 New York, NY (PRWEB) February 28, 2014
The International Restaurant & Foodservice Show of New York opens this Sunday, March 2 at the Jacob Javits Convention Center in New York. Over 17,000 restaurant and foodservice industry professionals will gather to see and sample hundreds of new products, services, and equipment from more than 500 leading vendors, and participate in 40+ educational programs and many special events. The event is sponsored by the New York State Restaurant Association and managed and produced by Urban Expositions. Following are a few of the event highlights:

The Ferdinand Metz Foodservice Forum education program will offer the following new sessions:
CHEF'S CHALLENGES– A one-on-one session with Landmarc's Chef Marc Murphy and Certified Master Chef Ferdinand Metz (Monday, March 3 at 3:00 pm)
FINE DINING – IS IT DEAD? – A panel discussion with some of NYC's finest chefs (Monday, March 3 at 12:00 pm). Join Chef Alfred Portale from the Gotham Bar & Grill, Chef Bill Telepan of Telepan and Telepan Local, Ed Brown, Premier Hospitality Division of Compass Group (Restaurant Associates, Flik International and Wolfgang Puck Catering); Kerry Heffernan, Eleven Madison Park, South Gate; and Certified Master Chef Ferdinand Metz.
RESTAURANT TRENDS, Here Today, Gone Tomorrow (Monday, March 3, 1:30 – 2:30): Panelists include Certified Master Chef Ferdinand Metz; Tony May, SD26; John Mariani, Esquire & Bloomberg News, Virtual Gourmet Newsletter; Michael Whiteman, Joseph Baum & Michael Whiteman Company. Moderator Stephen Michaelides, Restaurant Hospitality will revisits his early perceptions, opinions, and beliefs about restaurant owners, restaurant critics, writers, consultants, and food historians.
Culinary Demonstration Theater will feature Marco Cherico, Marco Polo; Chef Oscar Martinez from Havana Central; Anton Testino, Food Network's Chopped; Christopher Singlemann, Executive Chef, Watermill Caterers; Danielle Rimmer, Gordon Ramsey's Hell's Kitchen; David Binkle, Certified Executive Chef, Los Angeles Unified School District; Jules E.D. Shepard, Jules Gluten Free; and Marlissa Brown, Author of Gluten Free Hassle Free.
Annual Farm to City Expo will take place on Tuesday, March 4th from 12 – 4:30 pm and will focus on "Turning Local Purchasing into Profits for Farmers, Restaurateurs and Entrepreneurs". Sponsored by Empire State Development, NYS Department of Agriculture and Markets; College of Agriculture and Life Sciences Cornell University and Edible Magazine.
The Foodservice Council for Women will host Women Winning in Business on Sunday March 2nd from 10-11:30 am. This high energy – action packed – lineup of winning industry leaders sharing their insights, resources and "secrets" for winning in today's competitive marketplace. Featuring Kathleen Wood, Kathleen Wood Partners; Betsy Craig, MenuTrinfo; Sandy Korem, The Catering Coach; Sally Minier, Sweet Sallys and Marissa May, SD26.
Pride of New York/Taste NY Marketplace - "Locavore" and "Locapour" are two of the hottest trends in food and beverage, reflecting the surge in consumer demand for local products. And there's no better place to discover those products than at the Pride of NY/ Taste NY Marketplace where dozens of producers will showcase great local products—from wines, beers, and spirits, to cheeses, meats, breads, fruits and vegetables, and much more.
Japan Pavilion - The 2014 Japan Pavilion will feature the ingredients ramen and koji, which have currently exploded in popularity in Japan. The Japan Pavilion will introduce shio koji for the first time and teach industry processionals all about this special type of koji and how to use it to enhance the flavor of any dish. Executive Chef Taku Sato from Nobu Restaurant will also be making his debut in the Japan Pavilion.
Food Trends Experience - A tasty adventure providing direct access to product, flavors and ingredients driving the most recent trends in the market - healthy, organic, sustainable, ethnic, artisanal, and more! Presented within the Show, the Food Trends Experience is the fastest and most convenient way to see, taste, discover and learn about the new culinary innovations that will inspire creative and fresh menu ideas, delight customers and drive profits.
US Pastry Competition - Paris Gourmet presents the 25th Annual U.S. Pastry Competition on Sunday, March 2, 2014, where 12 rising stars of the pastry world have been selected to compete for the coveted title, Pastry Chef of the Year. The theme for this year's event is "Film Animation".
The 2014 International Restaurant & Foodservice Show of New York will be held Sunday, March 2 - Tuesday, March 4, 2014 at the Jacob Javits Convention Center. The show is produced and managed by Urban Expositions, and sponsored by the New York State Restaurant Association. For more information visit the official Show web-site at http://www.internationalrestaurantny.com.
# # #