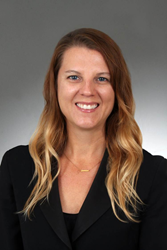 Brooke understands how to get to the heart of complex messages and develop real connections between consumers and brands. - Scott Roberts, CEO.
Orlando, FL (PRWEB) March 04, 2014
VacationOwnership.com LLC is excited to announce the arrival of their new director of communications and brand strategy, Brooke Doucha.
VacationOwnership.com is the parent brand to the next generation of consumer servicing and marketing sites in the online secondary timeshare marketplace, including VacationOwnership.com, SellMyTimeshareNOW.com and ResortRentals.com.
The company is making the move to provide more structure to their brand architecture through consumer marketing communications to support their rapid growth. This targeted investment is aimed at capturing more demand, reaching more buyers and introducing the timeshare product to consumers who may not have considered vacation ownership in the past.
Doucha, former director of corporate communications for Orange Lake Resorts, home to the Holiday Inn Club Vacations® brand, worked on the timeshare developer side for nearly 10 years. With her experience heading up social media, public relations, internal and corporate communications, she acknowledges the many opportunities for enhancing the conversations about – and consumer engagement within – the secondary timeshare marketplace.
Doucha says, "When it comes to making important purchasing decisions, consumers are more informed and prepared today than they've ever been. To add to that, the Gen X and Millennial traveler may not be able to relate to the long-term commitment to timeshare that's being marketed within traditional sales environments. In order to make this product relevant to these new consumers, we need to change our thinking and approach to communications."
The VacationOwnership.com family of brands gives consumers more ways to make the timeshare product work for their lifestyle by diversifying how it can be used: through rental, ownership and an online marketplace for sales.
Doucha adds, "Timeshare makes upscale vacationing more accessible for all - and by positioning ourselves with what consumers really want out of the timeshare product, we'll earn an emotional connection with our brands that will make their purchasing decisions in vacation ownership meaningful and worthwhile."
In this newly created role, Doucha will focus on enhancing the voice and image of each unique brand under VacationOwnership.com LLC, to include building their social media, public relations and corporate communications strategies.
Scott Roberts, the company's chief executive officer and corporate legal counsel, says, "Brooke understands how to get to the heart of complex messages and develop real connections between consumers and brands. She's eager to take creative risks that will help tech-savvy consumers in the online space get to know us better and engage with us to put the timeshare product to work. Perhaps the best part is that she knows that the secondary marketplace in timeshare is one of opportunity, that resales are a smart decision for many consumers and that it's an important aspect of the $6.9 billion vacation ownership industry."
About the VacationOwnership.com LLC Family of Brands
With offices in Orlando, FL and Exeter, NH, VacationOwnership.com LLC includes the brands SellMyTimeshareNOW.com, ResortRentals.com, Vacation Ownership Brokerage and Vacation Ownership Brokerage of NH.
Founded in 2003, the company offers online advertising services for by-owner timeshare resales and rentals, licensed timeshare brokerage, and customized owner services to timeshare resorts, HOAs, resort developers, and timeshare management companies. In 2012, VacationOwnership.com announced its strategic partnership with Vacation Innovations, LLC. The merger creates one of the world's largest resale timeshare and vacation ownership marketing companies with a remarkable capacity to expand the use of next-generation technology in vacation ownership resales and vacation rentals.
For more information on the VacationOwnership.com family of brands, visit http://www.VacationOwnership.com or find us on Facebook at http://www.facebook.com/VacationOwnershipcom.