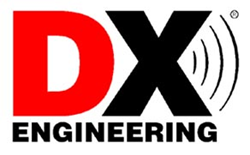 Tallmadge, OH (PRWEB) March 01, 2014
DX Engineering of Tallmadge, Ohio is now the exclusive source for the 2X Arrays TX38 Yagi Antenna. The TX38 has been named the Official Triband Antenna for WRTC-2014. It is electrically and mechanically designed to the exacting standards of the World Radiosport Team Championship (WRTC) committee.
Ideal for DXpeditions, field day and permanent installations, the TX38 is a 30 pound Yagi antenna with eight full-sized elements (two elements each on 20 and 15 meters and four elements on 10 meters). It features mono-band performance across the 10, 15 and 20 meter frequencies using a single 50 ohm feedpoint. Real world verification has shown the TX38 to have superb gain, VSWR and front/rear across those three frequencies.
Made in the USA, the 2X Arrays TX38 antenna features all-stainless steel element hardware and element mounting blocks to reduce wind vibration in the elements. Two custom fabricated galvanized U-bolts with saddle clamps are used to attach the element plates to the boom. Those features help the antenna to survive 100 MPH-plus winds when mounted on a 14.5 foot (4.4 meter) boom. A high quality 1:1 balun is included.
See the 2X Arrays TX38 Antenna at DXEngineering.com.
DX Engineering
http://www.DXEngineering.com
1-800-777-0703
About DX Engineering
At DX Engineering, Amateur Radio is all we do. Our goal is simple: fulfill the needs of Ham radio enthusiasts with the best products and technical support. Whether it's DXing, Contesting or just plain everyday operating, we strive to develop products that fill a specific need, products that are reliable, fully tested and represent the best value for your money. DX Engineering also carries the highest-quality products from brands that meet our exacting standards.