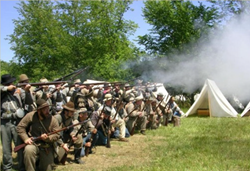 Galena, IL (PRWEB) March 02, 2014
Civil War encampments are back in town. On April 25, 26 and 27 swarms of 1860's blue and grey uniformed soldiers will blend once again into the historic skyline of Galena, IL. The busy schedule calls for military drill in the morning, a battle in the afternoon, a parade in between. Civilians in period-correct attire will grace the camp in living history fashion. The public is invited to watch the proceedings of camp life, observe medical technology of the time and witness the re-enactment of the Siege of Vicksburg (MS), then relax and enjoy a classic Sanitary Fair.
For more information, email THP at tristatehistoricalpresent(at)yahoo(dot)com, or find THP on Facebook at http://www.facebook.com/TristateHistoricalPresentationsInc.