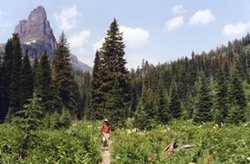 Glacier National Park is an absolute jewel in the national park system.
Helena, MT (PRWEB) February 28, 2014
"Glacier National Park is an absolute jewel in the national park system, encompassing one of the most diverse natural areas on the North American continent," explains Carol Simon. "Its 700 miles of trails pass through a dramatic landscape of alpine meadows, rugged mountains, tall forests and pristine lakes. Although Glacier National Park is best known for its heart-stopping scenery, it is also an excellent place to observe natural history. Rocks and glaciers, flowers and fossils, bears and mountain lions -- and much more -- make this an ideal location for those who love to hike and observe nature."
The Blackfeet people refer to Glacier as the "Backbone of the World;" indeed, its rock foundation ranks among the oldest on Earth. Its spectacular geologic layers and their movements have allowed scientists to unlock the mystery of much of earth's ancient history. Water, ice, and wind have sculpted these mountains into a fantastic array of cirques, horns, ridges, and dramatic U-shaped valleys, while also painting them in beautiful deep colors.
Glacier remains a remarkably untrammeled wilderness. The park has only 100 miles of roads but over 700 miles of hiking trails. During this tour, participants will go on carefully chosen hikes to highlight the wonderful wildflowers and abundant wildlife of the area. July is peak flowering season, and participants should find meadows awash with flowers such as Indian Paintbrush, and bright stalks of Glacier's signature plant – Beargrass. In the high country they will scan for Mountain Goats and Bighorn Sheep, while in lush forests they will look and listen for a variety of northern birds suchas Gray Jays, Clark's Nutcrackers, Townsend's Warblers, Lazuli Buntings, Boreal Chickadees and other species. Perhaps they will glimpse a Grizzly Bear.
Carol and Howard amplify the experience with their insight into biodiversity, animal behavior and Rocky Mountain ecology as tour participants see the park by trail, road, and boat, offering a variety of moderate to leisurely hikes to match interests and abilities. They will be joined by local guides from the organization Glacier Wilderness guides, who share expertise on wildflowers, birds, geology, history and more.
More about Naturalist Journeys' Glacier and Waterton National Park Hiking and Nature Tour:
The centerpiece of Naturalist Journeys' July 19 – 27 Glacier and Waterton National Park Hiking and Nature Tour is Glacier National Park. It preserves more than a million acres, and encompasses forests, alpine meadows, lakes, glacial-carved valleys and mountain peaks. Nearly 70 species of mammals call it home, and over 270 species of birds frequent the park. There are more than 740 miles of maintained trails within the park. The tour begins and ends in Kalispell, Montana, and is limited to 12 participants.
More about Naturalist Journeys:
Naturalist Journeys LLC, a top birding and nature tour company, offers specialty small group tours and travel worldwide, from the western U.S. to Alaska, Hawaii and Florida, Trinidad and Tobago, Costa Rica, Panama, safaris in Africa and more. Naturalist Journey's guided nature and birding tours feature expert guides with decades of experience in birdwatching, travel photography and other forms of eco-tourism. Naturalist Journeys also offers hiking and adventure travel tours in many national parks and wildlife reserves, including the Galapagos, Antarctica and the Amazon.