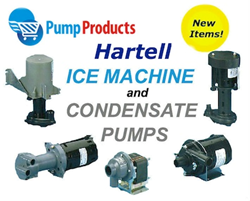 We now provide replacement pumps for Cornelius-Ross Temp, Ice-O-Matic Mile High, Kold-Draft, Mantiwoc, McQuay-Crystal Tips, Scotsman and Whirlpool-Frigidaire ice machine pumps.
Wallington, NJ (PRWEB) February 28, 2014
Looking toward cool times in 2014, Pump Products has added Hartell replacement ice machine pumps and commercial grade condensate pumps to its extensive inventory in anticipation of a strong market for these items in Spring 2014.
The on-line pump retailer, which offers an extensive selection of top-brand pumps and accessories at guaranteed lowest prices, has taken on the two specialty lines, along with Hartell's sink drain and AC/DC circulator models, in a move to enhance its position as a one-stop shop for residential and commercial/industrial customers.
"Hartell has been supplying pumps to the ice machine industry for over 40 years. Taking on their entire line provides us with one of the most varied pump inventories in the industry, making Pump Products the obvious choice for both popular and specialty models, including replacement ice machine pumps," says General Manager Ed Drejman.
Drejman and his team of application engineers took on Hartell's ice making and condensate removal lines following an extensive review to ensure the lines met Pump Product's high quality and performance standards.
"High torque motors, reliable switch assemblies and solid design were among the standout features that convinced us these were outstanding pumps," says Drejman, who leads a growing team of product support specialists standing by to provide on-line customers with sizing and selection information on a wide range of pump products including Hartell ice machine and condensate pumps.
"January and February were record months in terms of sales," says Product Expert Fred Hettinger. "In the wake of the success we've had with our extensive heating and wastewater pump inventory, the new ice machine and condensate pumps should carry our current momentum into the spring and summer."
With an expanding on-line presence and access to a broadening range of markets, Drejman, Hettinger and the Pump Products team are confident that Hartell's extensive inventory of plumbing, HVAC and appliance condensate pumps will enhance Pump Product's utility for restaurants, cafeterias, fast-food chains, hospitals, nursing homes, food processing plants, hotels, resorts and residential buildings.
"We now provide replacement pumps for Cornelius, Ross Temp, Ice-O-Matic, Kold-Draft, Mantiwoc, McQuay, Crystal Tips, Scotsman, Whirlpool and Frigidaire ice machine pumps," says Ed Drejman. "These items are not like TVs. They are bought out of necessity. If a pump in your restaurant ice machine fails, you're going to need a replacement fairly quickly. We're offering overnight delivery in many cases, at some of the best prices in the industry. Who would you call?"
Company Information
Pump Products is an authorized Hartell pump dealer offering an extensive selection of pumps and repair parts by Hartell and other leading manufacturers including Armstrong, Bell & Gossett, Taco, Berkeley, Hydromatic and Little Giant to residential, commercial and industrial customers. For more information on Hartell residential and commercial pumping equipment, visit Pump Products at  http://www.pumpproducts.com or call 1-800-429-0800?