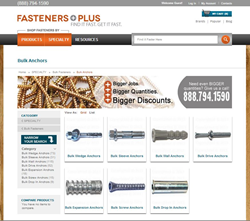 What really sets us apart is the personalized service we can offer customers.
Urbana, IA (PRWEB) February 28, 2014
Following up the introduction of its PointsPlus reward program, E-commerce retailer FastenersPlus.com continues to develop online volume pricing on bulk quantities of its top selling products.
While bulk rate pricing has been available by phone on certain products, the company's website has a special section dedicated to bulk pricing. Each product's page within the category reflects the special pricing, showing how much the price drops with an increase in quantity. A link to a custom quote form is also available on each product page for customers to submit.
Nikki Dudley, the company's VP Operations, says the creation of the new layout devoted to bulk pricing has been one of the top goals since the company's December 2013 launch.
"We've had a great response from our customers who have called in to place an order and take advantage of bulk pricing, so we're happy to continue to expand our volume pricing information on product pages," said Dudley. "We're continually researching products and prices to ensure we're offering the lowest prices in the industry."
While the Reward Points program and volume pricing initiatives have been front and center, Dudley says the focus still remains on superior customer service. An online chat feature was recently added, and phone support continues to bring praise from customers seeking additional product information.
"What really sets us apart is the personalized service we can offer customers," said Dudley. "We're not just another website selling products online – there are no phone scripts- just genuine, hands- on help in tracking down items, looking up additional product specs, brainstorming for creative solutions; we are a full service shopping solution."
According to Dudley, product line expansion is also continuing, with plans to roll out a new line of wedge anchors in March.
All products can be purchased by visiting FastenersPlus.com or by calling toll free at 888-794-1590. Bulk prices can be viewed online via the "Buy in Bulk and Save" button.
About Fasteners Plus
Fasteners Plus is owned by Clickstop, Inc., an online retailer of niche brands in several different categories. Websites under the Clickstop company umbrella also include USCargoControl.com and EcoFoil.com. With strong vendor relationships from Clickstop's large e-commerce presence, Fasteners Plus is proud to offer high quality, brand name hardware, bulk pricing tiers, and flat rate delivery. For more information, visit FastenersPlus.com.