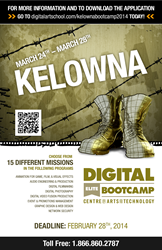 Bootcamp is a wonderful opportunity for students to get a sense of programs our school offers and how we can help them along the way as they select a career path and start working towards training for their dream job. -Tyler Finley Marketing Manager
Kelowna, B.C. Canada (PRWEB) March 03, 2014
Students looking to enter the Canadian digital arts industry will select a specific "mission" to undertake for the week, based on their career interests. They spend five full days working on a variety of "hands on" digital arts educational experiences and projects—from participating in a real-world film shoot to recording music artists live in the school's cutting-edge sound production studios. Bootcamp is one of few fully immersive learning experiences like this in Canada for students interested in arts and technology careers.
Tyler Finley, one of the coordinators of Bootcamp 2014, said: "Everyone at Centre is very excited to welcome all these bright young high-schoolers to our Kelowna campus for the week. We especially look forward to seeing how the students apply their energy and talent to their projects. Bootcamp is a wonderful opportunity for the students to get a sense of the digital arts programs our school offers and how we can help them along the way as they select a career path and start working towards training for their dream job."
More information about Digital Elite Bootcamp is available on our website.
Centre for Arts and Technology delivers fully accredited certificate and diploma programs across a variety of arts and technology disciplines, including animation, filmmaking, audio engineering, photography, graphic design, network security, fashion design, event management, interior design, and a variety of other programs. The Kelowna campus features two contemporary recording studios and a film production studio, in addition to extensive digital video, motion graphics, digital media, digital effects, fashion design, and animation labs. More information is available at http://www.digitalartschool.com.
Media Contact
Tyler Finley
Marketing Manager
Centre for Arts and Technology
250.860.2787. ext. 6152
tfinley(at)digitalartschool(dot)com