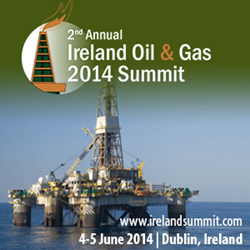 It is an IRN Summit!
London (PRWEB UK) 3 March 2014
It was announced last week that Barryroe partners, Providence and Lansdowne, have been granted a c. 180 km2 increase in the areal extent of SEL 1/11 by the Department of Communications, Energy & Natural Resources (DCENR). This increase in the breadth of this Standard Exploration Licence (SEL) signifies potential field extensions of Barryroe to the south and south-east.
IRN is pleased to welcome the CEO's of both Lansdowne and Providence at the 2nd Ireland Oil & Gas 2014 Summit, which is to be held in Dublin on the 4th-5th June 2014.
The Speaking Faculty will offer Ireland focused as well as international perspectives on geology, exploration and production of the promising offshore Atlantic Ireland, at a time when there is much activity in Ireland's oil and gas industry.
The expert speaker panel includes:

Tony O'Reilly, CEO, Providence Resources
David Horgan, Managing Director, Petrel Resources
Chairman of the Irish Offshore Operators Association (IOOA)
Ian Atkinson, Chief Geophysicist and R&D Manager, Nalcor Energy - Oil and Gas
Dr. Stephen Boldy, Chief Executive Officer, Lansdowne Oil and Gas plc
Geologist, Providence Resources (tbc)
John Ødegaard, Managing Director, Sosina Exploration Ltd
Sheenagh Rooney, Director of Energy Safety, Commission for Energy Regulations, Republic of Ireland
Michael Young, Director, Geological Survey of Northern Ireland, Department of Enterprise, Trade and Investment
Hugh Mackay, CEO, Europa Oil & Gas
Derek Reay, Team Leader, Energy and Minerals, Geological Survey of Northern Ireland, Department of Enterprise, Trade and Investment
Senior Representative, Fastnet Oil and Gas
Chic Brodie MSP, South of Scotland
Nicholas Ellison, Senior International Trade Executive, Aberdeen City Council
Andrew Hindle, CEO, Infrastrata
Tom Kelly, Divisional Manager Engineering, Enterprise Ireland
More information can be found on the website http://www.irelandsummit.com