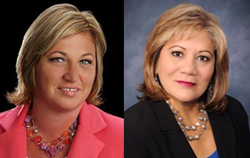 San Antonio, Texas (PRWEB) March 04, 2014
The San Antonio office of North American Title Co. (NAT) has added Stephanie Boatman as an escrow officer and Cecilia Sosa as a business consultant. Boatman has worked in the title industry for 10 years; Sosa has worked for more than 30 years in the real estate and title industries.
"We are excited about Stephanie coming on board with NAT and look forward to a long working relationship with her," said Ross Frapart, NAT branch manager. "We identified Stephanie as an escrow officer with great integrity and a great work ethic as well as extensive knowledge. She brings her energy and great sense of humor to the office every day."
Boatman was a recent finalist for the San Antonio Builders Association "Escrow Officer of the Year." She is a familiar face in the San Antonio real estate community at events for groups such as the Women's Council of Realtors® (WCR) and the National Association of Hispanic Real Estate Professionals (NAHREP). Boatman is also active with her family in the Buffalo Valley Youth Association and has served as its treasurer.
"We are also happy to welcome Cecilia to NAT," added Frapart. "We have been aware of her talent and reputation for many years and are lucky that she finally agreed to come to our company. Cecilia is creative and self-motivated and relentless in her pursuit of her goals. Our whole office is excited at the prospect of working with her and I am proud to say she is on our team."
Sosa is a native Texan and has worked in the real estate and title business since 1982 in California, Virginia and Texas. She has worked as an escrow officer for both residential and commercial transactions in addition to working as a marketing representative. She also is active in local real estate organizations including WCR, as well as serving as a board member of NAHREP and the Veterans Association of Real Estate Professionals.
The San Antonio North American Title office is located at 12500 San Pedro, Suite 405, San Antonio, TX 78216, telephone number (210) 494-0092.
About North American Title (NAT)
With well over 1,000 associates and a vast network of branches from coast to coast, North American Title is among the largest real estate settlement service providers in the United States. Consisting of both agent and underwriter operations, NAT reported annual net revenues in fiscal 2013 of $185 million. The company also has the resources and stability of a New York Stock Exchange company with over $11.0 billion in assets (fiscal quarter ending Nov. 30, 2013). North American Title's agency network operates nationally under the name North American Title Co. (NATC), and is located in 17 of the fastest-growing states: Arizona, California, Colorado, Delaware, Florida, Illinois, Indiana, Maryland, Minnesota, Nevada, New Jersey, New York, Pennsylvania, Texas, Utah, Virginia and Washington, D.C. Through our relationship with our expanding affiliate network, NATC provides real estate settlement services in all 50 states. NAT is headquartered in Miami, Fla. To learn more, visit http://www.nat.com