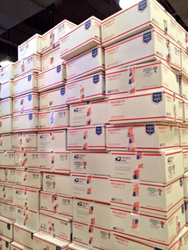 Boston, MA (PRWEB) February 28, 2014
Operation Military Care is a team building program that builds team spirit and camaraderie while participants assemble care packages for our soldiers overseas. Teams must work together in order to "purchase" 40 of the most requested items of overseas service members and piece together the packages in small groups. In 2013, 1,293 care packages were donated to various non-profits throughout the year.
This February, TeamBonding planned two events – one on each coast of the US – culminating in a donation of over 1,600 care packages to a single non-profit known as Operation Gratitude. Approximately 1,700 care packages have been donated through TeamBonding's Operation Military Care program in 2014 so far, already exceeding donations in 2013.
"On behalf of the soldiers, I would like to thank you for your support. To have people we don't know express appreciation by taking the time to send us a package and a note means a lot to us." M.A. – SSG SECTION LEADER
Operation Gratitude is a 501(c)(3), non-profit, volunteer-based organization that annually sends 100,000 care packages filled with snacks, entertainment items and personal letters of appreciation addressed to individually named U.S. Service Members deployed in hostile regions, to their children left behind and to Veterans, First Responders, Wounded Warriors and their Care Givers. Since its inception, over 1,000,000 care packages have been shipped to American Military members and their children through Operation Gratitude.
About Teambonding
TeamBonding.com is a unique corporate event planning company. We appeared on the Inc. 5000 list from 2007-2009 and in 2012. With over twenty years of experience we have dedicated our mission to forging authentic bonds between members of corporate teams. Through the "power of play" we set ourselves apart. With cues taken directly from children we see how the simple act of playing helps them grow and form true and lasting friendships. Headquartered in Stoughton, MA, TeamBonding has facilitators in nearly every major city of the U.S. For more information, please visit teambonding.com.