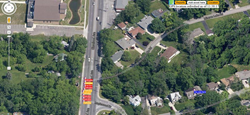 Being able to flag such deficiencies early can help in the creation of safer road projects. In essence, the technology is playing a strong role in eliminating the lag time between when information is discovered and reported.
(PRWEB) March 03, 2014
Resource International, Inc. (Rii), a rapidly-growing asset management and technology firm, has developed an advanced infrastructure management software, iiCollector, in collaboration with Google Maps. This technology is a new component of Rii's successful password-protected, project management website, ProjectGrid.com.
Powered by Google Maps, the Projectgrid.com iiCollector is a flexible, customizable asset management system used to rate both pavement and non-pavement elements using a handheld device. This mobile asset manager creates an innovative way to collect, categorize and itemize conditions in the field. The iiCollector technology is an intelligent integration of office and field documentation. The software has the capability to flag roadway deficiencies such as potholes in the field in a matter of seconds, making the roadways safer for motorists.
This award winning technology was created in response to the global demand for safer roads by design. The web app was created in order to reduce the frequency and severity of roadside accidents caused by colliding with a roadside hazard, including potholes, guardrails, barriers, roadway signs, and other fixed objects.
The need to repair potholes this year has been so great that it has generated news stories and national coverage about how hard it has been to maintain them all. Thousands of calls and requests have been made to city and state governments to complain about the pothole problem. Rii's award winning mobile asset manager, the iiCollector has the solution.
As potholes begin turning up because of the harsh winter, Rii's technicians are back in the field collecting data using the iiCollector web app. The app allows potholes to be rated based on their condition. Each pothole is marked by a color code corresponding with their overall condition. Green or no color, represents an acceptable asset, yellow represents an unacceptable asset with low urgency, light red represents a medium urgency and the dark red represents a critical high urgency deficiency. By entering this data into the system, the iiCollector analyzes the data and sends urgent pothole deficiencies to first responders via email. These first responders are trained to immediately fix any high urgency potholes to protect the safety of our drivers.
Technicians are able to quickly identify potholes and send the information back to the office instantaneously through the iiCollector. This eliminates the time lapse in repairing these potholes. The collected data is then stored in projectgrid.com where reports are generated. The iiCollector Pothole Tracker is the perfect solution in resolving the pothole problem that we are experiencing this year.
The iiCollector rewrites the way that infrastructure elements can be captured, diagnosed and reported. iiCollector has the unique intelligent integration of office and field documentation, which is accessible via mobile devices. For the first time ever, field personnel have real-time access to relevant manuals, Department of Transportation specifications and any required design drawings, while performing field condition inspection and assessment. As inspectors are collecting field data, engineers at the office are also receiving real time reports of deficiencies, with color coded urgency ratings and details of the projects without actually being there. ProjectGrid.com provides a centralized database of the results, giving assets a color coded rating based on their condition and geo reference on the map.
Being able to flag such deficiencies early can help in the creation of safer road projects. In essence, the technology is playing a strong role in eliminating the lag time between when information is discovered and reported. By recording the data on a connected device from the field, users can send vital information back to the office for review at a moment's notice. Rii believes this technology will save time and money when managing the pothole issues around the country this spring.
About ProjectGrid.com®
ProjectGrid.com® is an interactive, password-protected, project and program management Web site. ProjectGrid.com® provides a centralized database to host your project information that can be accessed anytime, anywhere through the World Wide Web. Each team member receives a unique password to log into the site and access the information to which they have authorization. The system works in conjunction with email to notify members of updates and changes immediately.
By using the ProjectGrid.com® project Web site, risk is reduced by keeping a clear audit trail of documentation and keeping all team members accountable. Furthermore, using such a communication center for project-critical information promotes a paperless environment, significantly increases efficiency, and saves time and money with fewer communication bottlenecks, thus ensuring your project is completed on time and within budget.
The vast benefits of utilizing ProjectGrid.com® on design projects include: Project hierarchy, flexible and fully customizable document management, file notifications, redlines/comments, revision control, tracking and managing meeting minutes, and an automated RFI handling system to improve collaboration between various participants on a project.