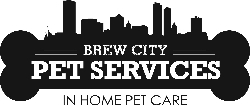 Milwaukee, WI (PRWEB) March 05, 2014
Brew City Pet Services exists to provide the best care possible to animals in the local area. And this care goes far beyond just feeding and walking our pets, as the Milwaukee pet sitting service will assist a no-kill cat shelter by holding a special charitable event.
Presented by Brew City Pet Services, the "March Madness Donation Drive & Adoption Event" will take place at Second Hand Purrs on Saturday, March 29th. This special event is being held to aide the no-kill shelter, as a non-profit organization there are numerous expenses to maintain. Attendees can help many animals in need by entering the bracket drawing through the purchase of a March Madness bracket for $2, or three brackets for $5. Those participating are eligible to win great prizes donated by local businesses, including an in-home pet care certificate from Brew City Pet Services. Attendance is not required to win. Those that cannot be at the event, yet still wish to participate, can contact Brew City Pet Services at 414-502-7387 or info(at)brewcitypetservices(dot)com.
Second Hand Purrs is located at 4300 S. Howell Ave. in Milwaukee, the event begins at 10 AM and the final drawing of the day will take place at 3 PM. Those in attendance are also encouraged to donate to this Milwaukee no-kill cat shelter, as food and supplies are consistently needed, as well as monetary assistance. All donations are tax deductible.
http://secondhandpurrs.org/how-you-can-help/
Many adorable cats and kittens are available for adoption. Sign up to be evaluated as a foster or forever parent on March 29th. View all available cats at http://secondhandpurrs.org/available-cats/.
This is a fantastic and fun event for all animal lovers, and a great opportunity to assist a local shelter. Join us for the "March Madness Donation Drive & Adoption Event" and pickup a bracket to give back!
About Brew City Pet Services:
Established in 2012, Brew City Pet Services is an insured and bonded pet sitting company and dog walking service in Milwaukee that serves the surrounding areas. As a small business, we are able to customize our pet services dependent on the needs of the pet and client. While we ask for a two-week notice for visits, we are able to accommodate last minute trips and customize the lengths of our pet visits.