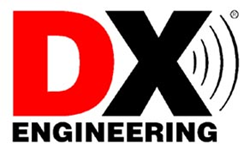 Tallmadge, OH (PRWEB) March 03, 2014
DX Engineering of Tallmadge, Ohio is now the exclusive source for the EA4TX ARS-USB Rotator Controller Interface. The low-cost computer interface allows Amateur Radio enthusiasts to automate their antenna positioning system.
The EA4TX ARS-USB Rotator Controller Interface is available in two versions—one for azimuth rotators and the other for azimuth and elevation rotators. Just connect the appropriate interface to your PC via the USB port. It will appear as a serial COM port for most logging and satellite tracking programs. The interfaces emulate the Yaesu GS232A rotator control protocol, so programs that offer Yaesu rotator control are immediately compatible.
The EA4TX supports any antenna rotator unit with directional feedback, and can be easily calibrated within the unit. You can use internal jumpers to adapt the interface to almost any rotator controller. The interface can also be used with a separate power supply or a transformer from a manual controller to make the EA4TX a stand-alone rotator controller.
The EA4TX ARS-USB Rotator Controller Interface operates on 12 Vdc power and features a permanently connected DC wire with stripped leads. A software disc and USB cable to connect the unit to the computer are included.
SEE THE EA4TX ARS-USB ROTATOR CONTROLLER INTERFACE AT DXENGINEERING.COM
DX Engineering
http://www.DXEngineering.com
1-800-777-0703
About DX Engineering
At DX Engineering, Amateur Radio is all we do. Our goal is simple: fulfill the needs of Ham radio enthusiasts with the best products and technical support. Whether it's DXing, Contesting or just plain everyday operating, we strive to develop products that fill a specific need, products that are reliable, fully tested and represent the best value for your money. DX Engineering also carries the highest-quality products from brands that meet our exacting standards.