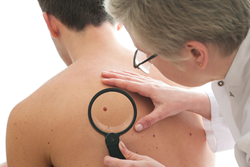 Physicians stress a three-fold approach of protection, early recognition and diagnosis, and screenings.
Rolling Meadows, IL (PRWEB) March 04, 2014
Not only are skin cancer treatments again the top procedure performed by American Society for Dermatologic Surgery members but the number of cases continues to rise, according to a recent ASDS survey.
ASDS members performed more than 3 million skin cancer treatments in 2013, an increase of 13 percent from 2012, according to the 2013 ASDS Survey on Dermatologic Procedures released last month.
Skin cancer is by far the most common of all cancers, with one in five Americans expected to develop some type of skin cancer in his or her lifetime, according to the American Cancer Society. The number of these cancers – including deadly melanoma and the generally treatable basal and squamous cell skin cancers – has been rising for many years.
"The increases we're seeing are partly because people are living longer. The older you are, the more skin cancers you get," said Marc Brown, M.D., a member of the ASDS Board of Directors and a New York dermatologic surgeon. "The other primary reason is exposure to ultraviolet light, from both the sun and indoor tanning."
Besides being a tenured professor of Dermatology and Oncology and a member of the Wilmot Cancer Center, Dr. Brown lectures and teaches peers and students at local and national meetings focusing on melanoma, and challenging and unusual skin cancers.
ASDS members completed nearly 9.5 million medically necessary and cosmetic procedures in 2013, an increase of 22 percent over 2012. Of the 3.04 million skin cancer treatments, 2.85 million were for basal cell or squamous cell cancers, an increase of 12 percent from the previous year. ASDS dermatologic surgeons completed 190,000 treatments for melanoma, one of the deadliest forms of skin cancer because it can spread rapidly inside the body. That was an increase of nearly 27 percent over 2012.
Melanoma comprises less than 2 percent of skin cancer cases but the vast majority of skin cancer deaths. With early detection and proper treatment, most melanomas are easily cured with minor surgical procedures, Dr. Brown said. Once melanoma leaves the skin and spreads inside the body, cure rates drop dramatically.
Three-fold defense
With skin cancer rates still on the rise, physicians stress a three-fold preventive approach of protection, early recognition and diagnosis, and screenings.
"People should protect themselves from the sun with sunscreen and clothing," said Dr. Brown. "Early recognition and diagnosis helps because cancers are much easier to treat when they're caught early while they're small. People also should be aware of screenings and should know what to look for. Many already do. Patients themselves frequently find suspicious lesions or changes in their skin."
He also recommended people know their risk factors and perhaps adjust screenings accordingly. People at higher risk include those who have fair skin and blond or red hair, have a family history of skin cancer or of blistering sunburns, spend or spent a lot of time outdoors, undergo indoor tanning or have many moles. High-risk patients¬ should be screened annually, Dr. Brown said. He stressed that those who find a suspicious lesion or changing mole seek medical attention, whether they're high-risk or not.
Besides patient awareness ASDS dermatologists also strive to teach primary care physicians what to look for in terms of skin cancer and when a case should be referred to a dermatologist. "They are our partners in this," said Dr. Brown of family practitioners. "In most cases, people start with their family doctor, the coordinator of their care, who can then recommend seeing a dermatologist. Some patients know they are at high risk and might choose to start at the dermatologist level."
Offering treatment options
Dermatologic surgeons specialize in treating the health and function of the skin, making them the logical choice for skin cancer treatment.
"The public rates us as the primary people to take care of skin cancer," Dr. Brown said. "We have multiple ways to treat cancers, from simple procedures to more complex surgical treatments. That gives us much more flexibility in terms of meeting patients' needs. We really understand the skin and low-risk and high-risk cases. We have the ability to recognize if a lesion is benign, precancerous or malignant, and we have multiple modalities for treatment. We are the experts in skin cancer."
People increasingly are aware of the need to have any new or suspicious lesions checked out, said ASDS President Mitchel P. Goldman, M.D. "We're heartened to know we've been able to treat millions of patients to minimize the life-threatening and disfiguring effects of skin cancer. ASDS members continue to stress the benefits of screenings in addition to educating physicians about recognizing skin cancers and when to refer cases to a dermatologic surgeon."
More information on skin cancer and treatments – including do's and don'ts, a downloadable skin cancer treatment questionnaire and information on finding a screening volunteer – is available at asds.net/skincancerinformation.aspx.
About ASDS
The American Society for Dermatologic Surgery (ASDS) is the largest specialty organization exclusively representing dermatologic surgeons who have unique training and experience to treat the health, function and beauty of your skin. ASDS members are pioneers in the field. Many are involved in the clinical studies that bring popular treatments to revitalize skin and fill and diminish wrinkles to the forefront. Their work has helped create and enhance many of the devices that remove blemishes, hair and fat, and tighten skin. Dermatologic surgeons also are experts in skin cancer prevention, detection and treatment. As the incidence of skin cancer rises, dermatologic surgeons are committed to taking steps to minimize the life-threatening effects of this disease.
Website: http://www.asds.net
Follow ASDS on Twitter: http://www.twitter.com/ASDSSkinExperts
Become a fan of ASDS on Facebook: http://www.facebook.com/ASDSSkinExperts
Locate a dermatologic surgeon in your area: http://www.asds.net
Contact:
Beth Bales, Communications Manager
American Society for Dermatologic Surgery
bbales(at)asds(dot)net
847-956-9143