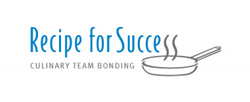 Hartford, CT (PRWEB) February 28, 2014
Cooking For A Cause is a team building experience that ends in a donation of food to people in need. The program includes food prepared and consumed by the participants during the event and a three-part donation to area food banks.
During 2013 Recipe For Success produced Cooking For A Cause events that donated to local Food Banks and Homeless Shelters. Donations include lasagnas that fed 4,800 people, 1,600 children's lunch bags including 350 pounds of peanut butter from scratch for the PB&J sandwiches, and 250 Family bags overflowing with staple pantry and health and beauty aid items. Each charity sent representatives to each of the events to discuss hunger within the local community and thank the participating teams for their donations.
"The programs literately brought tears to the participant's eyes," Chef Richard Cooper, Recipe For Success Founder.
Aside from charitable programs, Recipe For Success is always looking for new ways to help business build stronger team bonds through food. In February, Recipe For Success produced their first Tapas and Sangria event for 70 participants to great success. The Teams prepared 10 authentic Spanish "small plate" items.
"The food came out looking great and tasting great."
About Recipe For Success
Recipe For Success is a unique team building company that uses culinary challenges to build better teams. Founded by Chef Richard Cooper, a business executive and owner of My Mother's Kitchen Cooking School and David Goldstein, Founder of TeamBonding, Recipe For Success continues to lead the way in food-based team building events. For the last 10 years, Recipe For Success has been developing, refining, and delivering fun, affordable, high-quality culinary team building programs to an impressive list of clients throughout the United States and beyond. For more information on the company, please visit: http://www.recipeforsuccess.com.