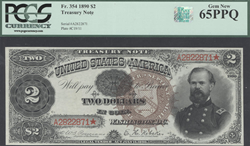 I can confidently buy sight-unseen when a note has the PMA sticker.
St. Petersburg, Florida (PRWEB) March 01, 2014
Paper Money Assure INC. (PMA) recently had the privilege of reviewing a rare $2.00 US Treasury note from the late Nineteenth Century and assigning a PMA registered sticker as one of the highest quality examples of its kind. Assigning a PMA registered sticker meant the bill was assessed by PMA as being high quality within its assigned PCGS Currency grade of Gem New 65 PPQ (Premium Paper Quality). The numerical grade by PCGS signifies that at first glance, the $2.00 bill appears to be almost perfect. Al Huie, owner of the bill, submitted it for PMA review.
The PMA registered sticker is to paper money, the equivalent of a CAC sticker to coins. The Certified Acceptance Corporation (CAC) provides an independent evaluation of a historical coin's quality within its assigned grade. The CAC and PMA stickers assure purchasers that the coin or currency is of a high standard in quality. The PMA registered sticker assures collectors and dealers the note may be considered sight unseen and purchased with confidence. The PMA review considers several factors of visual appeal, including paper condition, color vibrancy, margin sizing, and registration.
Thanks to an independent evaluation by PMA, Mr. Huie now has the mark of distinction on his $2.00, 1890, Treasury Note (Friedberg Number 354). Although $2.00 Treasury notes are a rarity, this particular run of 1890 treasury notes was especially uncommon. This can be distinguished from their counterparts by the large brown seal. Uncirculated condition notes signed by Rosencrans and Nebeker are nearly impossible to find. With only about 45 of this particular note known to exist, Mr. Huie now has a certified seal of quality to help distinguish his piece from the rest in any and all future sales.
"As a collector and dealer in paper money, I appreciate PMA's recognition of quality," says Al Huie, owner of the note. "The PMA sticker distinguishes a note that is superb for the grade from the others. I am always looking for the best of the best for myself and customers. We can't always be there to physically examine a note, and a picture or scan can only go so far. I can confidently buy sight-unseen when a note has the PMA sticker."
The PMA certification is a distinguishing mark for this already-valuable piece of history. In many cases, a similar coin, in terms of the number known, graded by any coin grading service and certified by CAC, could sell for hundreds of thousands of dollars. PMA is also doing its part to differentiate the best quality notes within the same grade.
Anyone can submit his or her graded collectible currency for PMA evaluation. Accepted notes are listed online, along with evaluation pricing and submission instructions.
About Paper Money Assure:
Paper Money Assure is the first-of-its-kind evaluator of historical graded paper currency to review collectible notes based on the visual appeal. Paper Money Assure assesses the appearance of a note based on several factors that occurred with the note. This includes the width of the margins, the centering of the bill, boldness of the ink, and the overall visual appeal. Collectors can look for the PMA sticker to determine the best in visual appeal, within the assigned grade, of their graded note. Learn more at their website: http://www.papermoneyassure.com.