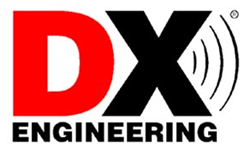 Tallmadge, OH (PRWEB) March 04, 2014
DX Engineering of Tallmadge, Ohio is now the exclusive source for the Cycle 24 Galvanized Economy Saddle Clamps. The U-bolt clamps are an inexpensive solution for Amateur Radio antenna and tower projects. Their galvanized steel saddles and U-bolts will last for many years in outdoor environments.
The clamps feature serrated flange nuts for locking power. Clamps with 3/8 inch diameter U-bolts have unique flat surface at the top of the bolt for improved grip on the tubing. Clamps for 3 and 3.5 inch tubing have saddles that are closed and spot-welded on the ends before galvanizing. This increases clamp strength and longevity.
The Cycle 24 Galvanized Economy Saddle Clamps are available for 1.25, 1.5, 1.75, 2, 2.25, 2.5, 3 and 3.5 inch diameter tubing. Clamps with 5/16 inch diameter U-bolts are suitable for plates up to 3/16 inch thick when using saddles, and .250 inch thick plates if saddles are not used. Clamps with 3/8 inch diameter U-bolts will accommodate plates up to 9/16 inch thick.
See the Cycle 24 Galvanized Economy Saddle Clamps at DXEngineering.com.
DX Engineering
http://www.DXEngineering.com
1-800-777-0703
About DX Engineering
At DX Engineering, Amateur Radio is all we do. Our goal is simple: fulfill the needs of Ham radio enthusiasts with the best products and technical support. Whether it's DXing, Contesting or just plain everyday operating, we strive to develop products that fill a specific need, products that are reliable, fully tested and represent the best value for your money. DX Engineering also carries the highest-quality products from brands that meet our exacting standards.