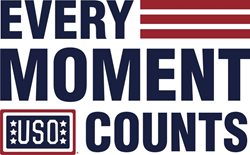 It's an honor to go over and visit the troops in their environment, not only to see how they're doing but also to appreciate what they're doing to keep us safe back in America," said Garçon. "I'm so proud to be a part of this event...
Arlington, VA (PRWEB) March 03, 2014
Twitter Pitch: @b_fields2, @PierreGarcon and @TheJimmyGraham to share #USOmoments on @the_USO @NFL tour, #NFLSalute
WHAT: USO-NFL Tour
WHO: Brandon Fields, kicker for the Miami Dolphins
Pierre Garçon, wide receiver for the Washington Redskins
Jimmy Graham, tight end for the New Orleans Saints
WHEN: Winter 2014
WHERE: Middle East
Note. For security reasons, the specific countries and dates cannot be released in advance.
WHY: Miami Dolphins kicker Brandon Fields, Washington Redskins wide receiver Pierre Garçon, and New Orleans Saints tight end Jimmy Graham will soon deploy to the Middle East as part of their first-ever USO/Armed Forces Entertainment tour. The group is scheduled to spend a week making memories with troops as part of the USO's "Every Moment Counts" campaign - a national, year-round initiative that encourages Americans to give, create and share moments that matter for our nation's service heroes and their families. During the trip, the players will learn about military aircraft, dine with troops and talk football with servicemen and women, among other activities.
The "Every Moment Counts" campaign invites Americans to join the USO in honoring and creating moments that matter for our nation's troops and their families – like this USO/NFL tour to the Middle East. The campaign centers around the countless every day moments – from family dinners, date nights and the holidays to children's births and bedtime stories – that our troops and their families miss and selflessly sacrifice due to their commitment and service to our country. To learn more visit USOmoments.org.
The NFL teamed up with the USO in 1966 and became the first sports organization to send players to Vietnam and other parts of Asia. Last year alone, 14 active and former NFL players participated in four USO tours to nine countries and created memorable moments for more than 21,000 troops and military families. Among the players who traveled overseas with the USO last year were Peyton Manning, Vincent Jackson, Austin Collie, Champ Bailey, Von Miller, D'Qwell Jackson, Davin Joseph, Steve Smith, J.J. Watt, Chris Draft, Donnie Edwards, Eric Metcalf, Bill Polian and Matt Light.
QUOTES: Attributed to Brandon Fields:
"It means a great deal to have the opportunity to go overseas to visit the troops. It is a way for me to show my appreciation, knowing all they are sacrificing fighting for our freedoms and the liberties of other people throughout the world. I feel honored to get to spend some time with them and hopefully bring them a little piece of home since they are stationed overseas away from their families for long periods of time."
Attributed to Pierre Garçon:
"It's an honor to go over and visit the troops in their environment, not only to see how they're doing but also to appreciate what they're doing to keep us safe back in America. I'm so proud to be a part of this event and to be able to thank the real heroes in person.
About the USO
The USO lifts the spirits of America¹s troops and their families millions of times each year at hundreds of places worldwide. We provide a touch of home through centers at airports and military bases in the U.S. and abroad, top quality entertainment and innovative programs and services. We also provide critical support to those who need us most, including forward-deployed troops, military families, wounded warriors and families of the fallen. The USO is a private, non-profit organization, not a government agency. Our programs and services are made possible by the American people, support of our corporate partners and the dedication of our volunteers and staff.
In addition to individual donors and corporate sponsors, the USO is supported by President's Circle Partners: American Airlines, AT&T, Clear Channel, The Coca-Cola Company, jcpenney, Jeep, Kangaroo Express, Kroger, Lowe's, Northrop Grumman Corporation, Procter & Gamble, and TriWest Healthcare Alliance and Worldwide Strategic Partners: BAE Systems, The Boeing Company, Lockheed Martin, Microsoft Corporation and TKS Telepost Kabel-Service Kaiserslautern GmbH & Co. KG. We are also supported through the United Way and Combined Federal Campaign (CFC-11381). To join us in this patriotic mission, and to learn more about the USO, please visit uso.org.