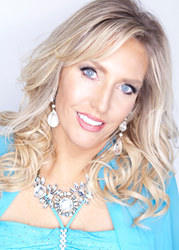 Nothing would make me happier than to utilize my Mrs. Maryland International title to draw attention to elder abuse prevention, and to help our seniors to lead safer, happier lives.
Baltimore, MD (PRWEB) February 28, 2014
Cristi Adkins, a Registered Nurse and mother of three has been crowned 2014's Mrs. Maryland International, and will compete for the Mrs. International title July 25th and 26th at the Times-Union Center for the Performing Arts in Jacksonville Florida, showcasing the accomplishments of today's married women.
The long-time clinical nurse educator and media commentator will compete with 70 women from around the world this summer at the Mrs. International Pageant. The International Pageant system was developed nearly three decades ago to promote married women, their accomplishments, and commitment to family and marriage.
"The Mrs. International System has established itself as an organization with integrity and high ethical standards. Their goal is to provide ladies everywhere the opportunity to compete in a pageant system that maintains the highest moral values. I'm honored and humbled to represent this great state," said the newly crowned Mrs. Maryland International.
Cristi plans to utilize her platform to bring more attention to the prevention of elder abuse, from the mountains of Western Maryland to the state's picturesque Eastern Shore and all points in between. "As a young nurse I was horrified to witness first-hand the devastating effects of elder abuse at the hands of neglectful family members and reckless caregivers. As a result, for the past 20 years I have been dedicated to serving the aging, visiting shut-ins, and advocating for victims against this often under-reported type of domestic violence."
The 2014 Mrs. Maryland International's previous media appearances have included THE DAILY SHOW with John Stewart, FOX NEWS CHANNEL'S Sean Hannity, Alan Colmes, Neil Cavuto and John Gibson, MSNBC's "Hardball" with Chris Matthews, SIRIUS/XM Radio and health reporting for KUTV in Salt Lake City Utah.
In 2008 Cristi participated in a special invitation-only private meeting with Senator and Republican Presendtial nominee John McCain at his Arlington VA campaign headquarters. She was invited to discuss health and women's policy issues and answer McCain and his staff's queries concerning healthcare, the aging population, Supreme Court Justice appointments and placing more women in Congress to represent the unrepresented. Cristi plans to bring her political advocacy and media spokesperson skills to work for Maryland's elderly population when meeting with lawmakers in Annapolis later this spring.