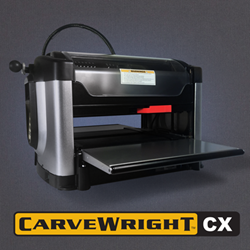 This product just keeps getting better, and with that, the possibilities of what you can do with it become more and more exciting
Pasadena, TX (PRWEB) March 02, 2014
CarveWright, the world's leader in personal CNC systems, is excited to announce its newest version of their 3D carving machine; the user-friendly and affordable CarveWright™ CX CNC Fabricator. Orders may be placed online at carvewright.com/cx, by calling 713‐473-6572, or by ordering through Home Depot, Lowe's or Amazon.com.
The CarveWright CX System is a small, but powerful CNC fabrication machine. It uses spinning bits to cut away material to shape wood, plastics, and foam materials into desired shapes. A revolutionary feed through design moves the material through the system much like a printer. This allows the machine to have a small footprint and yet still accommodate large pieces of material. Its compact size transforms any garage, workshop, or shop class, into a powerful automated fabrication center. Packaged with the simple, yet powerful, drag-and-drop Project Designer™ software, and the ServoSmart™ controller in the machine, the CarveWright CX is the most sophisticated desktop CNC system available.
"This product just keeps getting better, and with that, the possibilities of what you can do with it become more and more exciting," said Chris Lovchik, CEO of CarveWright. "Our goal from the beginning was to make CNC easy and affordable. We've already done that. Now with the CarveWright CX, we've made it truly powerful as well."
The CarveWright CX CNC Fabricator will immediately begin shipping with packages at $1,999.99. Packages may be configured to meet specific needs through our order system at carvewright.com/cx.
The CarveWright CX builds upon the same framework of previous models with improvements to several components making it even more robust and reliable. The improvements to the CarveWright CX System include a new and quieter cut motor for a less noisy work environment, a new rugged power supply for increased power stability, and heavy duty rubberized PVC belts for increased traction and accuracy. These improvements help define the CX machine as the new standard in personal CNC quality and reliability.
The CarveWright CX is also optimized to be used with the entire CarveWright product line, including over 7000 digital 3D patterns and projects in the CarveWright™ PatternDepot™, and any of the Add-On Apps for expanding the software's features. Other accessories include the CarveWright™ Scanning Probe for taking physical objects and digitizing them into a 3D pattern for replication, sanding mops for fast and easy project clean-up, and multiple bits for various cutting and carving functions. "No matter what you desire to make, we probably have everything you need to create it", notes Chris Lovchik.
A large and active community accompanies each CarveWright CX as well. The CarveWright user's forum (http://forum.carvewright.com) is an online meeting place, where ideas, patterns, and friendly assistance are exchanged 24 hours a day. Our Build Blog (carvewright.com/buildblog) is a great resource where projects are regularly summarized and shared with the entire CarveWright community. The CarveWright™ START U™ program and local User Groups are a great way to find fellow owners in your area to meet up and learn. All of these come together in an annual users conference held every June in the Houston, TX area.
To learn more about the CarveWright CX and to place an order, visit carvewright.com/cx or call 713-473-6572.
About LHR Technologies, Inc.:
LHR Technologies is the creator of the award-winning CarveWright System, America's first and most popular affordable personal CNC fabricator. The CarveWright was created by former NASA robotics engineers who saw a need for a sophisticated consumer level carving machine in the 3D fabrication market. LHR started with three main goals in mind. First, the market needed a machine compact enough to fit in anyone's garage or shop, while still providing a maximum output capacity. Second, it needed to include software that would be full-featured, yet easy enough for beginners with basic level computer skills. Third, it had to be available at a price that made professional 3D fabricating affordable to everyone. Introduced in 2006, the CarveWright has exceeded all of these requirements. Our development team continues to explore and offer new improvements to the system. CarveWright routinely releases new advanced software features, hardware upgrades, accessories, bits, projects, patterns, videos and documentation, and other developments to inspire CarveWright user's creativity and inventiveness.
If you would like more information about this topic or to schedule an interview, please contact Joe Lovchik at (713) 473-6545 x 825 or jlovchik(at)lhrtech(dot)com.