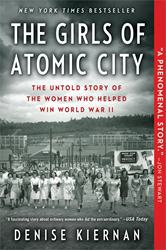 "A fascinating story about ordinary women who did the extraordinary"—USA Today
New York, NY (PRWEB) March 11, 2014
THE GIRLS OF ATOMIC CITY was hailed by top media outlets as "fascinating" and "a phenomenal story" when it was first published last year. It hit The New York Times and The Los Angeles Times Best Seller lists, was an NPR and IndieBound bestseller and made Amazon's Top 100 Best Books of 2013.
Author and journalist Denise Kiernan also received high praise for her "cinematic vividness" and "marvelous" reporting. She appeared on "The Daily Show with Jon Stewart," "PBS Newshour," MSNBC "Morning Joe," and National Public Radio.
AT THE HEIGHT OF WORLD WAR II, Oak Ridge, Tennessee, was home to 75,000 residents, consuming more electricity than New York City. But to most of the world, the town did not exist. Thousands of civilians—many of them young women from small towns across the South—were recruited to this secret city, enticed by solid wages and the promise of war-ending work. Kept very much in the dark, few would ever guess the true nature of the tasks they performed each day in the hulking factories in the middle of the Appalachian Mountains. That is, until the end of the war—when Oak Ridge's secret was revealed.
Drawing on the voices of the women who lived it—women who are now in their eighties and nineties— The Girls of Atomic City rescues a remarkable, forgotten chapter of American history from obscurity. Denise Kiernan captures the spirit of the times through these women: their pluck, their desire to contribute, and their enduring courage. Combining the grand-scale human drama of The Worst Hard Time with the intimate biography and often troubling science of The Immortal Life of Henrietta Lacks, The Girls of Atomic City is a lasting and important addition to our country's history.
About the author:
Denise Kiernan has been working as a writer for nearly 20 years. She has been published in The New York Times, Wall Street Journal, Village Voice, Ms. Magazine, Reader's Digest, Discover and many more publications. She has also worked in television, serving as head writer for ABC's "Who Wants to Be a Millionaire" during its Emmy award-winning first season and producing for places such as ESPN and MSNBC. She has authored several popular history titles including Signing Their Lives Away, Signing Their Rights Away and Stuff Every American Should Know. Her most recent book, The Girls of Atomic City, is a New York Times, Los Angeles Times and NPR Bestseller. As an author, Denise has been featured on NPR's Weekend Edition, "The Daily Show" with Jon Stewart, MSNBC's "Morning Joe," PRI's The Takeaway, PBS NewsHour, and in numerous newspapers and magazines.
Catch Denise Kiernan on tour in these cities in 2014!
*All dates and times are subject to change so please call venue to confirm details.

3/11/14, South Hadley, MA: Odyssey Books at 7:00 pm
3/13/14, Fredricksburg, VA: Dodd Auditorium, GW Hall at 7:30 pm
3/15/14, Asheville, NC: Malaprop's Bookstore at 5:00 pm
3/18/14, Oak Ridge, TN: Oak Ridge Literacy Luncheon, Oak Ridge HS at 11:30 am
3/21/14, Charlottesville, VA: New Dominion Bookshop at 2:00 pm
3/22/14, Charlottesville, VA: Virginia Festival of the Book at 2:00 pm
3/24/14, Austin, TX: Book People at 7:00 pm
3/25/14, Houston, TX: Brazos Bookstore at 7:00 pm
326/14, Oxford, MS: Off Square Books at 5:00 pm
3/31/14, Iowa Ctiy, IA: Prairie Lights Bookstore at 5:00 pm
4/1/14, Ann Arbor, MI: Nicola's Books at 7:00 pm
4/2/14, Cincinnati, OH: Joseph Beth Booksellers at 7:00 pm
4/3/14, Roseville, MN: Barnes & Noble, North Snelling Ave at 7:00 pm
4/7/14, Naperville, IL: Anderson's Bookshop at 7:00 pm
4/8/14, Wichita, KS: Watermark Books at 6:00 pm
4/10/14, Boone/Hudson, NC: Caldwell CC at 8:00 pm
Touchstone • March 11, 2014 • Trade Paperback • 9781451617535
Denise Kiernan is available for interview. Please contact Tanya Farrell at Wunderkind PR (tanya(at)wunderkind-pr(dot)com).