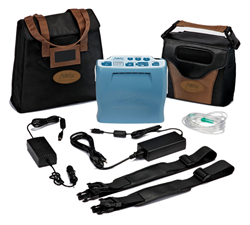 Austin, Texas (PRWEB) March 04, 2014
Inova Labs Inc. ("Inova Labs"), a leading manufacturer of innovative oxygen therapy solutions is proud to announce the availability of a new portable oxygen concentrator – the LifeChoice Activox™ Sport Model ("Activox Sport"). Weighing only 3.9 pounds and featuring up to 5.5 hours of internal battery runtime, Activox Sport offers oxygen users a powerful, lightweight and hands-free portable oxygen solution.
Activox Sport features unique Auto Mode and PULSE-WAVE™ Technologies that work together to deliver oxygen congruent with an oxygen user's inhalation rate and breathing pattern. This innovative technology is a gentle form of oxygen delivery that helps minimize the uncomfortable side effects such as dry nose and nose bleeds that are often associated with traditional delivery methods. The device delivers up to 3 liters per minute equivalent oxygen and offers up to 5.5 hours of internal battery runtime. For oxygen users requiring even more portability, an additional External Battery is available for purchase that provides up to 3 hours of additional battery runtime.
Like the Activox Pro Model, the Sport Model is FAA-approved for in-flight use, making it the perfect companion for trips and vacations. As a non-delivery solution reimbursed by Medicare and most private insurance plans, Activox Sport offers compelling benefits to home medical equipment providers as well.
"Our mission is to help patients with respiratory conditions stay active and sleep well, so as a company we strive to develop best-in-class devices that can empower these individuals to lead healthier, more active lifestyles," commented Inova Labs VP of Marketing, Keith James. "We believe the new Activox Sport is a product that will enable users to do just that."
To learn more about Inova Labs' newest portable oxygen concentrator, the Activox Sport, visit http://www.InovaLabs.com or call 1-800-220-0977.
About Inova Labs
Inova Labs Inc. is a medical device company specializing in the development and commercialization of innovative products for patients with respiratory conditions. Product offerings include the FDA-cleared LifeChoice® and LifeChoice Activox™ Pro and Sport Portable Oxygen Concentrators. http://www.InovaLabs.com.