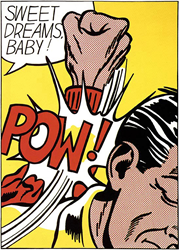 New York/Berlin (PRWEB) March 01, 2014
artnet Auctions concluded the most successful Pop Art print auction in its six-year history, with sales totaling US$638,581.*
Top Lots
Description Estimate Price Realized
Roy Lichtenstein
Sweet Dreams Baby!, 1965
US$100,000–125,000 US$115,200
Andy Warhol
Bald Eagle (from Endangered Species), 1983
US$50,000–70,000 US$58,800
Andy Warhol
Grevy's Zebra (from Endangered Species), 1983
US$40,000–60,000 US$57,600
Andy Warhol
Mao, 1972
US$40,000–50,000 US$47,400
Andy Warhol
Liz, 1964
US$30,000–40,000 US$39,600
Andy Warhol
Chicken Noodle (from Campbell's Soup l), 1968
US$16,000–18,000 US$34,200 (new world record)
Roy Lichtenstein
CRAK!, 1963–1964
US$25,000–30,000 US$29,400
Andy Warhol
Beef (from Campbell's Soup l), 1968
US$16,000–18,000 US$28,200
Roy Lichtenstein
Explosion, 1967
US$20,000–25,000 US$21,600
Keith Haring
Pop Shop Quad II, 1988
US$15,000–20,000 US$19,800
Jasper Johns
Figure 9 (from Color Numeral series), 1969 US$15,000–20,000 US$17,400
Senior prints specialist Deborah Ripley said, "We are delighted by the strong results of the sale, which demonstrate that artnet Auctions is the industry leader in Fine Art auctions online. We were especially excited to see online buyers from around the world, including Taiwan, Turkey, Great Britain, Norway, and Singapore."
*All realized prices include artnet Auctions 20% Buyer's Premium.
For more information about this sale, please contact the artnet Auctions specialist:
Deborah Ripley
Senior Specialist, Prints
+1-212-497-9700 ext. 174
dripley(at)artnet(dot)com
About Us:
artnet is the leading online resource for the international art market. Established in 1989, artnet provides reliable information and market transparency to art collectors. With our comprehensive suite of products, artnet can empower anyone with a passion for art.
With 24/7 worldwide bidding, artnet Auctions & Private Sales is a dynamic marketplace for collecting art. Our online auction platform provides a unique collecting experience with seamless flow between consigners, specialists, and collectors. Our auctions and private sales community influences new collectors and inspires everyone to collect art.
http://www.artnet.com | http://www.artnet.de | http://www.artnet.fr
Artnet Worldwide Corporation, 233 Broadway, 26th Floor, New York, NY 10279, USA