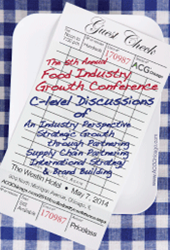 "Our studies of innovation and growth in the food industry show partnerships and strong working relationships are critical success factors." Jeff Mengel, ACG Chicago Officer & Plante Moran Partner
Chicago, IL (PRWEB) February 28, 2014
Now in its 5th year, the ACG Chicago Food Industry Growth Conference addresses fast paced change and extremely competitive markets. The food and beverage industry saw $81.3 billion in natural/organic retail sales in 2013, genetically modified foods continue to be a controversial segment, protein-based snacks are replacing carbohydrate-based snacks, and all of this requires innovation, investment and focused strategic plans. On May 7th leading industry executives will gather at the Westin Hotel in Chicago to learn, network and perhaps explore investments.
The key ingredients for success will be mixed with a vision of the current and future state of the industry. Alexia Howard, Senior Research Analyst, U.S. Food, Sanford C. Bernstein & Co., LLC is returning to provide updated insights into the food industry trends and expectations. Some of the presenting CEOs will then explore their C-level perspective of growth through partnering. They include:

Matt Matros, Founder & CEO, Protein Bar;
Elizabeth Doyle, CEO & President , Vegetable Juices, Inc.; and
Joseph Ward, President & COO, Hot Mama's Foods.
Jeff Mengel, Conference Chair and Partner at Plante Moran noted, "Our studies of innovation and growth in the food industry show partnerships and strong working relationships are critical success factors. We are very excited to have these leaders share their experiences and management insights."
Branding, international partnering and supply chain relationships are other key drivers of this industry. These and other topics will be addressed by these CEOs, Founders and key executives:

Angelique Gunderson, Health & Wellness Platform Leader, Tate & Lyle;
Jason Heckler, VP of Marketing & Innovation, PureCircle;
Rebecca S. Kalis, President & CEO, Keyes Packaging Group;
Howard Katz, Chief Strategy & Development Officer, Havi Group;
Sherman Wright, Founder, commonground; and
more to be announced later.
ACG Chicago CEO Craig Miller adds, "this is a critical industry considering the global food demands we will be facing and the fact that 1.5 million workers in this industry equal roughly 14% of all US manufacturing jobs. We are looking forward to understanding how to accelerate these businesses, increase productivity and continue to lead in this crucial sector."
The attendees and speakers will close the evening with a networking reception to keep the issues discussions going, build new relationships and invest in the future. For more information on the 5th Annual Food Industry Growth Conference, the speakers and ACG Chicago in general, click here or call 877-224-6389. Early registration discounts end April 8th.
About ACG Chicago
Since 1968, ACG Chicago is a leader in the Association for Corporate Growth (ACG) global network of over 14,000 professionals. The ACG Chicago mission is ACG Chicago is the premier network of leading authorities on corporate growth.
More than 1,000 foremost authorities in their fields comprise this diverse and knowledgeable Chicago network of corporate executives, capital sources, corporate advisors and service providers. The 2014 Board is joined by over 100 other committee members who focus on the needs of these professionals to build unparalleled opportunities for networking, deal-making, personal growth and professional development.
Visit http://www.ACGChicago.com for more information or call 877-224-6389, or contact Craig Miller at CMiller(at)ACGChicago(dot)com.