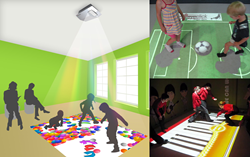 Patient comfort and safety is a top priority at Clinton Hospital, and our new EyePlay system helps us achieve both.
Armonk, NY (PRWEB) March 04, 2014
An EyePlay system was recently installed in the Family Emergency Department Waiting area the Clinton Hospital, which is a member of UMass Memorial Health Care. The hospital is located in Clinton, Massachusetts and recently opened a brand new, state-of-the-art Emergency Department.
Sheila Daly, RN, MS, President and CEO, Clinton Hospital explained why their organization decided to install the EyePlay, "Patient comfort and safety is a top priority at Clinton Hospital, and our new EyePlay system helps us achieve both."
Many health facilities have been highly interested in EyePlay due to the fact that it is not only a low-maintenance entertainment solution; it also is completely germ free. Unlike toys and equipment that would need to be sterilized, this system from EyeClick does not have any parts that come into contact with the public.
The EyePlay is a virtual playground that is strictly activated by motion. When children run, jump and play, this triggers sounds and visuals. Plus, multiple children can interact with the EyePlay and one another without coming into physical contact with one another.
Daly elaborated, "If a patient needs to wait for treatment, the interactive EyePlay system allows children visiting our ED to be entertained while simultaneously distracting them away from the reason they are here. The hands-free game peaks the interest of most of our pediatric-age visitors (and many adults, too!), while alleviating infection transmission concerns normally associated with toys or books. We've found the system also to be helpful to parents or caregivers, who may be ill or injured themselves, by engaging their child(ren) so they can rest until it's time to be seen."
About EyeClick:
EyeClick specializes in creating inventive products that transform designated spaces into magical experiences. The company's EyePlay, EyeStep and EyeWall products open up a world of possibilities to engage audiences in out-of-home locations. EyeClick has helped leading brands, from Burger King and NASA to Namco and GattiTown, transform their floors, walls and window areas into spectacular interactive displays that leave a long-lasting impression on visitors. EyeClick gives designers, hospitals, event planners, retailers, media companies, family entertainment centers, restaurants, and other organizations the ability to showcase rich interactive digital content in public spaces. More information about EyeClick can be found at http://www.EyePlay.info.
About Clinton Hospital:
Nationally recognized for consistently high ratings in patient satisfaction, Clinton Hospital offers patients local access to emergency care, cardiovascular medicine, and inpatient hospitalist services performed by expert physicians from UMass Memorial Medical Group – along with a wide range of specialty services provided by highly regarded private physicians. In addition to convenient outpatient services such a same-day surgery and physical therapy, Clinton Hospital also offers access to a number of state-of-the-art diagnostic services, including nuclear medicine, ultrasound, CT scanning, stress testing and digital mammography, to families throughout our community.
# # #