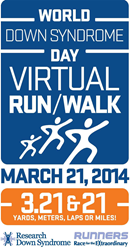 Conifer, CO (PRWEB) February 28, 2014
Siobhan Pritchard, a noted ultra-marathoner and mother of one year old James, who has Down syndrome, says she is often asked why there isn't a national run or walk on World Down Syndrome Day to support Down syndrome research. "I get this because I'm so associated with running for this cause, I guess," Siobhan remarks. World Down Syndrome Day is held yearly on March 21, because of the symbolic connection to 3/21. Down syndrome is the most prevalent human chromosomal condition, caused by a person having three copies, rather than two, of Chromosome 21. Last August, Siobhan completed the Leadville 100 Mile Trail run, and together with other runners who shared virtually in this run, raised significant funds for The Research Down Syndrome Foundation, whose mission is to fund research to develop treatments to assist memory and learning in persons with Down syndrome. This mission also is aimed at understanding the connections between Down syndrome and Alzheimer's disease, as there is a greatly increased occurrence of Alzheimer's disease in persons with Down syndrome.
Siobhan agreed that World Down Syndrome Day would be a great forum to increase awareness of Down syndrome cognitive research and raise funds to support this medical initiative. She has organized an event called the World Down Syndrome Day Virtual Run/Walk. http://www.active.com/chicago-il/running/distance-running-races/world-down-syndrome-day-virtual-run-walk-2014 "I don't care if you walk or run 321 feet, 3.21 blocks, 3.21 miles or 21 miles. I just urge parents, family, friends and supporters of persons with Down syndrome to join together on this day to showcase and support the remarkable research underway that is beginning to understand the origins of learning difficulties in persons with Down syndrome. I know of three separate human clinical trials that are already underway to test potential drug treatments. I think this is just incredible, and I want to play just this small role in encouraging increased support for these studies." Other parents share Siobhan's passion. Paul Watson, from Dallas, and father of Nathan, age 12, notes that the progress in Down syndrome cognitive research shows real promise, and it's time for this research to gain greater public awareness and support. Paul adds, "Down syndrome advocates have facilitated acceptance, inclusion and health care advances. Now it is time to build upon these successes by supporting research to address learning challenges and prevent the early cognitive decline associated with Alzheimer's disease." Lara Font, from Houston, and mother of four year old son, Parker is, along with Siobhan and hundreds more, a participant in the Research Down Syndrome Runners program, a national charity race program raising funds for Research Down Syndrome. Lara shares in Paul's vision for the future of Down syndrome research. "Important things are happening now in Down syndrome research because of organizations like Research Down Syndrome. None of this research would be possible without continuing support and unfortunately, Down syndrome research is underfunded. I'm looking forward to joining the WDSD Virtual event, in my continuing efforts to change this unfortunate reality."
Siobhan concludes, "Researchers have long associated the positive impact of exercise on cognitive performance. What better way to demonstrate our commitment to Down syndrome research than by walking or running some version of 321 in support of research? I don't care if it is 3.21 steps to your laptop or tablet to sign up and join the cause, just do it."
The Research Down Syndrome Foundation is grateful for supporters like Siobhan, Paul and Lara, and directs those interested in joining the World Down Syndrome Day Virtual Run/Walk to:
http://www.active.com/chicago-il/running/distance-running-races/world-down-syndrome-day-virtual-run-walk-2014
Facebook: https://www.facebook.com/wdsdrun
Twitter: @ResearchDs
+++++++++++++++++++++++++++++++++++++++++++++++++++
About Research Down Syndrome
Research Down Syndrome (RDS) is among the leading sources of private funding for Down syndrome related cognitive research. RDS supports and funds Down syndrome cognitive research conducted at research institutions that are studying the basis of the intellectual impairments associated with Down syndrome, including Alzheimer's disease. Research Down Syndrome is a legal corporate entity, and is a 501(c) (3) nonprofit organization designated by the Internal Revenue Code. For more information, go to http://www.researchds.org, or contact RDS: info(at)researchds(dot)org or 847.710.2251.