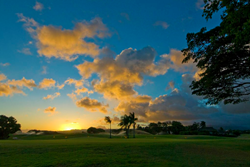 As demand for Hawaii real estate increases and inventory decreases, more buyers are looking for new homes in premier resort locations.
Honolulu, HI (PRWEB) February 28, 2014
Brookfield Homes Hawaii has announced that reservations are now being accepted for PiliMai at Po'ipu, a new townhome community located on the Kiahuna Golf Course on Kauai's South Shore. The highly anticipated community will feature single-level and 2-story plantation-style homes with ocean, golf course, or mountain views. According to Brookfield Homes Hawaii President Jeff Prostor, there is an increased demand for new homes in the desirable Po'ipu area by both full-time residents and second home purchasers.
"The real estate market in Hawaii is stronger than it has been in years, and that means that demand for new homes within premiere destination locations has increased. PiliMai at Poʻipū is located near one of the highest rated golf courses in Hawaii and features some of the most spectacular landscape anywhere on the islands."
PiliMai will feature 2, 3, and 4-bedroom homes with attached, deeded garages and easy access to Poʻipū world-class beaches and amenities. Prices for new homes at PiliMai start in the $600,000's.
In addition to the homes at PiliMai, Brookfield Homes Hawaii has partnered with DMB Associates and A&B Properties to offer luxury residences within the exclusive, private community of Kukui'ula. Priced from $3-4 million, these homes incorporate natural materials with modern finishes and feature sweeping ocean views.
According to Marketing Manager Carrie Gorospe, the demand for new residential and resort homes is high at Brookfield Homes Hawaii communities across the islands of Hawaii.
"We have just two new homes remaining at Nihilani at Princeville Resort on Kauai and we're seeing strong sales at KaMilo at Mauna Lani Resort," reports Gorospe. "As demand for Hawaii real estate increases and inventory decreases, more buyers are looking for new homes in premier resort locations. New communities, like PiliMai, give buyers greater freedom to select the home, the finishes, and location they really want."
For more information about new, island-inspired resort homes currently available on the Big Island and on Kauai, visit the Brookfield Homes Hawaii website at http://www.brookfieldhawaii.com.
About Brookfield Homes Hawaii
Brookfield Homes Hawaii, Inc. is an award-winning home builder that offers luxury residential resort communities on the Islands of Hawaii including KaMilo at Mauna Lani (Island of Hawaii), Nihilani at Princeville and PiliMai Poʻipū (Island of Kauai).
About A&B Properties
A&B Properties is a wholly owned subsidiary of Alexander & Baldwin, Inc., Hawaii's fourth largest landowner with 88,000 acres of land on Hawaii. A&B Properties' diverse real estate holdings include development projects on Oahu, Maui, Kauai, and the Big Island on the U.S. Mainland.