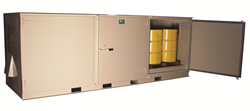 Sheffield Village, OH (PRWEB) February 28, 2014
Benko Products, Inc., a leading innovator in spill containment safety products, announces CHEMICAL STORAGE CABINETS as a safe way to store hazardous material.
Benko Products' line of chemical storage cabinets provide high quality and the best technology available to supply safe hazmat storage. Sized for capacities from 4 to 44 drums, these storage units feature modular construction and riveted design for quick design and delivery.
Options include: non-fire rated, 2-hour fire rated, and 4-hour fire rated. There are advanced protective coatings throughout cabinets, an oversized sump capacity and no ground-to-metal contact. Cabinets are easy to move with built-in forklift access points and are completely fabricated and ready to use.
Benko Products offers a complete line of chemical storage buildings and steel spill containment pallets to suit all of your secondary containment needs.
For more information on Benko Products, Inc., call (440) 934-2180 or go to http://www.benkoproducts.com.