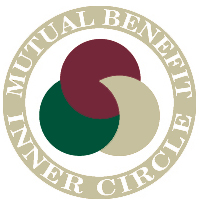 "We're proud to be an independent agency and most proud of our association with Mutual Benefit, which has a superior reputation in the industry." Chuck Houser, Indiana Insurance
Huntingdon, Pennsylvania (PRWEB) March 03, 2014
Indiana Insurance, an independent agency in Indiana, Pennsylvania, has been awarded 2013 Inner Circle honors by Mutual Benefit Group.
Mutual Benefit's Inner Circle acknowledges outstanding agent performance and recognizes consistent profitable growth and superior customer satisfaction.
Indiana Insurance is owned by Chuck Houser, a 32-year insurance veteran and Indiana University of Pennsylvania graduate who acquired the agency in 2010, and operates with the assistance of a four-member staff. The privately owned agency represents more than a dozen insurance carriers.
"We're proud to be an independent agency and most proud of our association with Mutual Benefit, which has a superior reputation in the industry," Houser said. "We look forward to a continued relationship with them, and we thank our loyal clients, who helped us earn this honor."
Mutual Benefit Group is a regional property/casualty insurance carrier headquartered in Huntingdon, Pennsylvania, that has been providing coverage for personal autos, homes, and businesses since 1908. The company's insurance products are underwritten through its member companies, Mutual Benefit Insurance Company and Select Risk Insurance Company. Rated A- (Excellent) by A.M. Best, Mutual Benefit serves nearly 80,000 policyholders in Pennsylvania and Maryland through 250 independent insurance agents. Mutual Benefit Group was awarded a 2013 Stakeholder Team Accomplishment Recognition (STAR) (TM) award from Demotech, Inc., a financial analysis firm specializing in evaluating the financial stability of regional and specialty insurers. Only 44, or 1.6%, of the 2,736 carriers reviewed by Demotech received the STAR (TM) award based on their 2012 operating results. Mutual Benefit Group was also named to the list of Best Places to Work in Pennsylvania for 2013. This was the fifth consecutive year that the firm has qualified for the list.