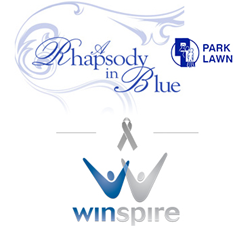 Our experience in working with Winspire is always positive and the outcome of the sale of the trips are above our expectations.
Alsip, IL (PRWEB) February 28, 2014
Rhapsody in Blue is a signature auction gala hosted annually to raise revenue for Park Lawn Association, a nonprofit serving individuals with developmental disabilities since 1955. Over 200 guests enjoyed a Paris themed evening of auctions, raffles, dinner and dancing at the Alsip Double Tree Hotel. Guests were entertained during cocktail hour with a mime and French accordion music. Now in it's 4th year, proceeds from Rhapsody in Blue total close to $300,000.
Winspire partnered with Park Lawn Association to provide three exclusive travel experiences, which helped contribute a total of $2,200 for the cause. The Winspire packages included a Fairmont stay in Bermuda, an Epicurean Adventure in Napa Valley and an Exclusive Tour of the Samuel Adams Brewery in Boston.
"Park Lawn has auctioned off trip packages with the help of Winspire for 3 years," explains Nancy Schmitz, the Director of Development for Park Lawn. "Our experience in working with Winspire is always positive and the outcome of the sale of the trips are above our expectations. During the course of 3 years, several of the packages sold multiple times raising additional revenue for our programs."
The highlight of the night was during the Fund-A-Need portion, which is to raise money for Park Lawn's Enrichment program. Park Lawn participants Leslie and John showed off their dance moves to the popular musical Grease. Music, theater, art, crafting, sports and reading are all areas of interest for Park Lawn's program participants and form the structure of the Enrichment program.
About Park Lawn Association
Park Lawn is a non-profit organization located in the south suburbs of the Chicagoland area. Its mission is to provide services that promote independence, choice and access to daily living for people with intellectual and developmental disabilities. Since 1955, Park Lawn has been serving the community by providing valuable resources and programs such as vocational training, residential living and community employment. For more, visit: parklawn.com
About Winspire
Winspire provides unique once-in-a-lifetime travel Experiences for nonprofits to use in benefit auctions or charity fundraisers. This increasingly popular fundraising tool allows organizations to place exclusive travel packages in their fundraisers without any upfront cost. Since organizations purchase only those packages they sell, Winspire Experiences can be used with no risk at live auctions, silent auctions, raffles and any number of fundraising events.
Since 2008, Winspire has been involved in more that 25,000 events and helped raise over $30 million for charity with these experiences. More that 55,000 satisfied winning bidders have purchased an enjoyed a Winspire package, which include such Experiences as award shows, major sporting events, VIP access, family vacations, international trips, cruises and hundreds more. Winspire fulfills each and every package for the winning bidders, booking each Experience down to every last detail. For more information, please visit http://www.winspireme.com.