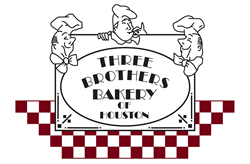 "With our fourth generation of customers in Houston, we want to maintain the sweet treats that have made wonderful memories for so many." - Bobby Jucker
Houston, TX (PRWEB) February 28, 2014
On March 3, 2014, Houston will welcome the third addition to the local bakery institution, Three Brothers Bakery. With two existing locations, Three Brothers Bakery is excited to celebrate the grand opening of its next installment, which will be located in the Rice Military neighborhood, between River Oaks and the Heights, on Washington Avenue, with friends, family and its new neighbors. The bakery will also introduce reformulated Mardi Gras sweets and its latest sweet addition, the Cake Parfait.
The new location will be reintroducing Three Brothers Bakery to an area of Houston where it has been missed for nearly a decade. In addition to its existing customer base, the store will cater to a new audience and appeal to the customers that used to frequent its former River Oaks location, and will also bring 25 to 30 new jobs to the area. Situated on Washington Ave. in a progressive, up-and-coming area of Houston, the third location will cater to a larger demographic, including families and young professionals, with a sleek, modern interior, later hours and a dog-friendly patio.
Additional bakery features include a coffee bar, which Three Brothers Bakery decided to incorporate into its new location based on the success it has seen at the Memorial location, a cake decorating demonstration area and gourmet dog treats. The Washington bakery will be the only location to feature custom, made-to-order Cake Parfaits, where guests can create their own unique dessert with the choice of various Three Brothers Bakery cakes, fillings, icings, cookie crumbles and toppings such as fudge, sprinkles and even gingerbread crumbles.
A staple in the Houston community for nearly 65 years, Three Brothers Bakery is looking forward to opening its new set of doors, welcoming guests by offering complimentary samples of its new Cake Parfait combinations and other sweet samples, including King Cake, just in time for Mardi Gras.
Having recently spent time in New Orleans visiting traditional Cajun bakeries and researching authentic King Cakes, Three Brothers Bakery is excited to reintroduce its King Cake this Mardi Gras season, with a new and more authentic product, complete with an edible sugar baby.
In honor of the bakery's first day in business, it will welcome members of the Greater Heights Area Chamber of Commerce to officially introduce Three Brothers Bakery to the neighborhood and to cut the grand opening ribbon with the help of the bakery's first-ever Houston customer, Clyde Cannon, who has been at all of the bakery grand openings since reopening after Hurricane Ike.
"We are incredibly excited to open a third location and bring our treats back to the inner loop area," said Bobby Jucker, bakery co-owner and 5th generation baker. "We may be updating our look with a modern new store, but our products will be the customary items our customers love and expect from Three Brothers Bakery, with a few new and fun twists. With our fourth generation of customers in Houston, we want to maintain the sweet treats that have made wonderful memories for so many."
The opening of Three Brothers Bakery's third location marks the beginning of the first phase of its growth plan, which was established with the help of the Goldman Sachs 10,000 Small Businesses program. Additionally, in honor of the National Multiple Sclerosis Society's Multiple Sclerosis Awareness Week beginning March 3, Three Brothers Bakery will be donating 100% of the sales of branded dip-decorated cookies and petit fours to the organization for the duration of the week.
For more information regarding Three Brothers Bakery or its new location and grand opening week, please contact Allison Huseman at 713-225-0880 or allison(at)integratepr(dot)com.
About Three Brothers Bakery
The traditions of Three Brothers Bakery began in Chrzanow, Poland circa 1825, and were preserved despite the family's concentration camp imprisonment during the Holocaust. Their miraculous liberation, and subsequent move to Houston, brought Eastern European scratch baking traditions to 4036 S. Braeswood Blvd and 12393 Kingsride Lane, where the owners are now proud to call themselves "memory makers who just happen to be bakers." Perfecting the process for almost 200 years, each day the fifth generation bakers produce mostly dairy-free breads and pastries, cookies, a full line of specialty dessert cakes and pies, as well as custom birthday, special occasion, wedding and groom's cakes using only the highest quality ingredients.
The Three Brothers Bakery pecan pie was named "the best mail order pecan pie America has to offer" by Country Living magazine, and most recently, bakery owner, Bobby Jucker competed in the popular 'Food Network Challenge' and has been seen on Food Network's Outrageous Food. Three Brothers won "1st Place Cupcake 2012" from Retail Bakers of America as well as "Best Mail-Order Pies 2012" from Bon Appetit. The bakery also won Modern Baking's "2013 Retail Bakery of the Year" and was part of The Knot's "2010-2013 Best of Weddings" and "Hall of Fame" picks. Three Brothers Bakery is a certified Woman-Owned Business through the Women's Business Enterprise National Council, and a State of Texas Historically Underutilized Business.
Follow Three Brothers Bakery on Facebook and Twitter for Houston area news, information and events.