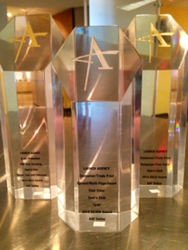 Dallas, TX (PRWEB) February 28, 2014
The Addys Award Show is an annual event where advertising industry professionals in Dallas gather to enjoy the year's best creative work. The celebration was held at the Hyatt Regency to honor work developed in 2013.
Launch Agency picked up three trophies at the Dallas Addys. The award winning work was for long-time client Sam's Club. The "Fresh, Fast and Fabulous" cookbook won Gold in the Sales Promotion POP Free Standing category. The "Grill" spread magazine ad won the Silver award in Consumer/Trade Print Spread/Multi-Page/Insert Four Color category. "Grill" was part of a series of magazine ads that won Gold for the Consumer/Trade Print Campaign Four Color category.
Award-winning work can be viewed here.
Launch Agency is a full-service advertising agency based in Dallas. Founded in 2003 after spinning off from Temerlin McClain, they are nationally recognized for award-winning creative work, and for competitively positioning and marketing both fast-growth and mature companies. Current clients include Park Place Dealerships, Promised Land Dairy, Children's Medical Center, Cooper Aerobics and Bed Bath and Beyond. Visit our website or facebook.com/launchagency to learn more.